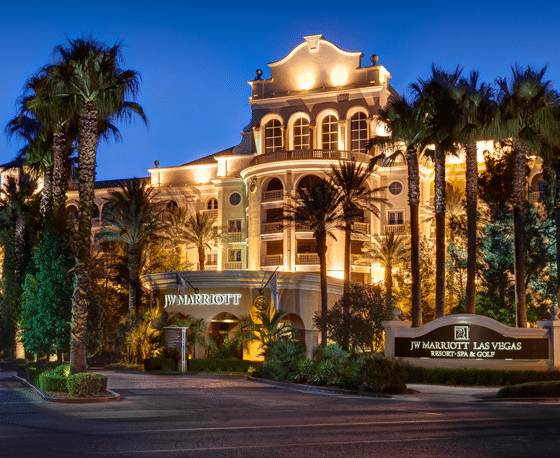 JW Marriott Las Vegas Resort & Spa
221 North Rampart Boulevard
Las Vegas, NV 89145
Phone: 1-800-582-2996
A discounted rate has been secured for 2017 RadWaste Summit attendees at the JW Marriot Las Vegas Resort & Spa.
In order to get a room in the official RadWaste Summit room block at the discounted rate of $149/night (plus taxes), reservations must be made no later than Friday, August 18th. Click here to reserve your room or call 877-622-3140.
A government room rate has also been secured for attendees. Click here or call 877-922-3140 to reserve your room at the government per diem rate.
Rooms are available on a first come, first served basis.
Area Airport:

McCarran International Airport. Estimated taxi fare is $60 USD (one way).
For information on directions, transportation, and parking, please visit the hotel
AIRLINE DISCOUNTS:
We are pleased pleased to announce that we have secured airfare discounts ranging from 2% – 10% off published fares for RadWaste Summit participants. To take advantage of the discount please follow the directions below:
United Airlines: Save an additional 3% by booking your own airfare online at www.united.com. Choose your flight times and access your discount by inserting ZXGB498201 in the Offer Code box. Or call your travel professional or United Meetings at (800) 426-1122 FREE for reservations. Refer to Z Code: ZXGB and Agreement Code: 498201. (A $25 service fee will be collected for all tickets issued through United Meetings Reservation Desk).
Delta Airlines (save up to 10%): Reservations and ticketing is available via www.delta.com. When booking online, select Book a Trip, click on More Search Options and enter the meeting code, NMNZW, in the box provided on the Search Flight page. Reservations may also be made by calling Delta Meeting reservations at (800) 328-1111 Monday – Friday from 7 a.m. – 7 p.m. CDT. Additional fees may apply.