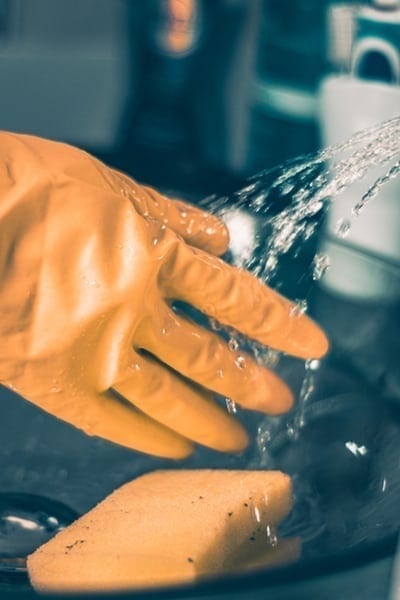 Three nuclear cleanup sites have received approval from the Energy Department to bring back more staff who have been at home for months during the COVID-19 pandemic.
The Energy Department announced the status change for the Portsmouth Site in Ohio, the Paducah Site in Kentucky, and the West Valley Demonstration Project in New York in online postings Tuesday.
Phase 2 is already underway at the Idaho National Laboratory, the Nevada National Security Site, and the Waste Isolation Pilot Plant in New Mexico, according to DOE. All other Office of Environmental Management facilities remain in Phase 1.
The Hanford Site in Washington state, home to the agency's largest and most costly remediation job, will stay in Phase 1 for the coming week, DOE Manager Brian Vance said online Thursday.
The site has been in Phase 1, which involves bringing back people in high-priority and low-risk jobs, since May 25. Phase 2 builds upon Phase 1 by trying to bring back most employees whose job is best done on-site – provided there is enough personal protective equipment for workers who need it.
Portsmouth/Paducah Project Office (PPPO) Manager Robert Edwards acknowledged the status change in a memo posted Tuesday for federal and contractor personnel at the two facilities. "Your commitment to enhanced safety and deliberate restart of planned project activities has paved the way for moving to Phase 2 of our approach to returning the site to routine operations."
This will be a slow ramp up as DOE continues to monitor impacts of COVID-19 on the surrounding areas and within the PPPO workforce, Edwards said. Many employees for the ongoing remediation at the two former DOE gaseous diffusion plants will continue to telecommute, he added. Edwards did not cite specific figures.
The pace of personnel callbacks will be based on factors such as coronavirus health data, remaining state and local restrictions on large gatherings, and facility preparedness, Edwards wrote. "You will be notified by your employer regarding specific return to work dates."
Like most other cleanup locations, Portsmouth and Paducah cut back to minimal on-site operations in mid-March, with most people working remotely or collecting paid leave. The two sites started Phase 1 of DOE's remobilization program on June 8.
United Steelworkers (USW) LOCAL 1-689 President John Knauff said by telephone Thursday he expects more than half of the 1,800-person workforce for remediation contractor Fluor-BWXT, the largest vendor at Portsmouth, will be on-site next week. Phase 2 should begin Monday, he said.
Around 1,400 people work at the Paducah Site. The Energy Department did not immediately respond to an inquiry on how many people total are expected to be inside the fence there, and at the other Phase 2 locations, next week.
The Office of Environmental Management and contractor CH2M HILL BWXT West Valley announced the planned increase in operations at the New York site via Facebook, although it did not list an exact date for the change. The bare-bones staff at West Valley during the two months of minimal operations helped set up office trailers to increase social distancing, according a May 27 presentation to a citizens' task force.
The Office of Environmental Management is using the Energy Department's four-step process that starts with Phase 0, for planning and preparation. Phase 1 starts the gradual recall of some workers in jobs that don't need much personal protective equipment. This process continues with more workers being called back in Phase 2 and can include those that require more PPE and safety precautions. Some limited nonessential travel can resume in Phase 2, although most external meetings will still be done remotely.
Finally, in Phase 3, staffing can return to near-normal levels, although physical distancing and other anti-virus precautions continue, and special accommodations can be made for vulnerable employees, according to DOE.
Death From COVID-19 Confirmed at Savannah River Site
The Energy Department confirmed Monday that an employee of the prime contractor for the Savannah River Site in South Carolina has died as a result of COVID-19.
"I regret to inform you that we have lost a member of the SRNS [Savannah River Nuclear Solutions] team to a COVID-related death," SRNS President and CEO Stuart MacVean said in a Monday memo to employees of the Fluor-led vendor. The individual became ill last week and died soon afterward, the CEO added.
The Savannah River Nuclear Solutions statement did not indicate what type of work the individual did, or whether the employee was involved in operations for the Office of Environmental Management or DOE's semiautonomous National Nuclear Security Administration. However, the NNSA  has said there are no COVID-19 deaths at its operations to date.
No further details will be provided beyond what is in the company statement, an Energy Department spokesperson said via email.
"Our hearts and prayers go out to the individual's family and friends during this time," MacVean said in the memo. "The loss of a coworker is a somber reminder that we are truly 'in this together,'" he added.
This is the second confirmed death within the Department of Energy complex during the pandemic. An employee at agency headquarters died in April.
There are roughly 11,000 workers at the Savannah River Site, located near the border with Georgia. As of Thursday, SRS has confirmed a total of 87 cases of COVID-19 among its workforce, 53 of those employees have recovered and been cleared to return to work.
On Thursday, another employee at Hanford reported having tested positive for COVID-19. That brings Hanford's total number of cases during the pandemic to 23, based on an informal count.
The same day, WIPP management reported on social media that an employee of contractor CAST Specialty Transportation who works at a trucking terminal in Carlsbad has tested positive for the coronavirus. The transport contractor "does not routinely interact with other WIPP employees," according to a press release from the transuranic waste disposal site.
Four coronavirus infections have been publicly confirmed by WIPP since the pandemic began. Many individual DOE sites do little if any public reporting of infections.
As of Wednesday, there were 31 active COVID cases, and two deaths from the virus in Environmental Management complex, a federal official said. The official declined to say where the two deaths occurred, or if these were the previously reported deaths at SRS and the Washington, D.C., headquarters of DOE.