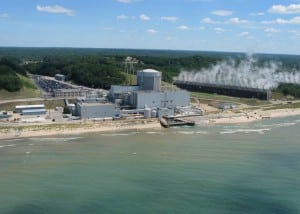 A day after the Department of Energy made funding available for economically-troubled nuclear power plants, Michigan's governor announced she would bid on aid to save the Palisades Power Plant in Covert Township.
Michigan will provide a "compelling" application to receive funding for Palisades, Gov. Gretchen Whitmer (D) told Secretary of Energy — and former Michigan governor — Jennifer Granholm in a letter dated Wednesday. Palisades, located in Covert, Mich., is set to close in May after which Holtec International plans to acquire and decommission the plant.
"Keeping Palisades open is a top priority," Whitmer told Granholm. "Doing so will allow us to make Michigan more competitive for economic development projects bringing billions in investment, protect hundreds of good paying jobs for Michigan workers, and shore up Michigan's clean energy supply and provide reliable lower energy costs for working families and small businesses."
Whitmer praised DOE's "efficient, thorough work" setting up the funding opportunity and said she was grateful the agency is prioritizing plants slated for near-term closure in its first award cycle.
"I intend to do everything I can to keep this plant open, protect jobs, and expand clean energy production," Whitmer said, and urged other parties including the Nuclear Regulatory Commission, Holtec and current plant operator Entergy to do the same. "[I]t will take every stakeholder thinking creatively and optimistically to keep this opportunity on the table," she said.
"We are aware of the statement from Governor Whitmer regarding Palisades Nuclear Plant and the potential desire to continue operating the facility as a safe, carbon-free source of power," a Holtec spokesperson told RadWaste Monitor in a statement Thursday. "We remain ready, should these efforts to keep the plant operational not be successful, to transition ownership to Holtec after the plant ceases operations for a safe, efficient decommissioning process."
Michigan isn't the only state with a nuclear plant scheduled to close in the near future. Diablo Canyon Power Station, the only operating plant in California, is set to shut down its two reactors in 2024 and 2025. Operator Pacific Gas & Electric (PG&E) told RadWaste Monitor in a statement Thursday that the nuclear credits rollout doesn't change the plant's fate. "PG&E is committed to California's clean energy future, and as a regulated utility, we are required to follow the energy policies of the state," the utility said. "At this time, the state has not changed its position regarding the future of nuclear energy in California."
DOE unveiled its civil nuclear credits program in an announcement this week. Bids on the first round of the agency's roughly $6 billion nuclear credits program are due by 11:59 p.m. Mountain time on May 19, the agency said this week.
The bailout is part of the Infrastructure Investment and Jobs Act, signed into law by President Joe Biden in November.
As part of the rollout, DOE "directs owners or operators of nuclear power reactors that are expected to shut down due to economic circumstances on how to apply for funding to avoid premature closure," the release said.
This funding cycle will prioritize nuclear plants that have already announced plans to close, DOE said. The agency is also accepting both applications and bids at the same time in order to "implement the program on a more rapid timeline." DOE will open up the credits program to all plant operators in a future cycle, the release said.
Meanwhile, the nuclear industry and its professional network sounded off this week in support of the rollout. 
"With increased recognition to keep our largest source of carbon-free energy online, DOE has structured a program giving priority to plants announcing intentions to close and broadening that scope to plants at risk later this year," Matt Crozat, executive director of policy development at the Nuclear Energy Institute, told RadWaste Monitor in a statement Wednesday. 
"We will work with our members to ensure this program is as effective as possible and continue to advocate for a production tax credit, which will offer greater certainty for owners to make long-term investments in their carbon-free nuclear plants," Crozat said.
Steven Nesbit, president of the nuclear professional organization the American Nuclear Society, said that he "welcomes the long-awaited launch" of the civil nuclear credits program. "The DOE's Civil Nuclear Credit Program will help protect against premature and unwarranted closures of carbon-free, fuel-secured and weather-resilient nuclear power plants," he said.
Nesbit also applauded Michigan for seeking out credits for Palisades. "Ultimately, it will be up to the owners of Palisades to apply for the Civil Nuclear Credit Program," he said. "Hopefully, it is not too late to reverse the economic decision to shutter Palisades."
Updated 04/22/2021 10:45 a.m. Eastern time with comment from ANS.