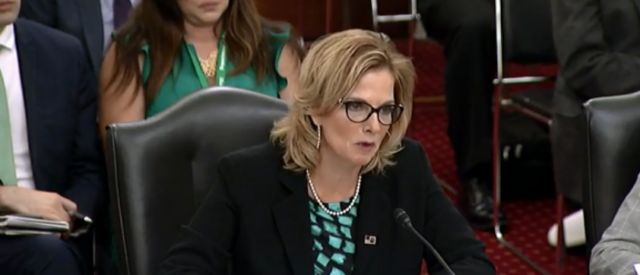 WASHINGTON — The National Nuclear Security Administration (NNSA) will be late in making initial deliveries to the Pentagon of two refurbished nuclear weapons, the head of the Energy Department's semiautonomous nuclear-weapon agency said this week.
The Air Force was supposed to get its refurbished B61, to be called B61-12, in 2020. The Navy was supposed to get its first W88 Alt 370 in December 2019. Because of defects with electrical capacitors needed for both weapons, those dates are now "expected" to slip, an NNSA spokesperson said. How far is yet to be determined.
After disclosing the slip in a hearing of the Senate Armed Services strategic forces subcommittee, NNSA Administrator Lisa Gordon-Hagerty told Nuclear Security & Deterrence Monitor that her agency has been evaluating the bad capacitors for "the last couple of months."
Capacitors store electric charges. The defective items intended for the B61-12 and W88 Alt 370 are commercial units procured by the NNSA's Kansas City National Security Campus, which acquires and manufactures the non-nuclear parts of nuclear weapons. Gordon-Hagerty said it will take several months to decide what to do about the wonky components.
In the B61-12 life-extension program, the NNSA aims to homogenize four existing versions of the B61 gravity bomb and extend the weapon's life for 20 years. On top of the NNSA's expected $8-billion bill, the Air Force's program to provide a guided tail kit to help the weapon maneuver is expected to push the program's cost to about $12 billion over the 20 years ending 2025.
W88 Alt 370 will replace electric detonation hardware used in the newer of the Navy's two submarine-launched ballistic missile warheads, and replace the conventional high-explosives used to spark the warhead's fissile core. That was expected to cost about $4 billion over roughly 10 years, including up to $3 billion in NNSA expenses, according to DOE and Pentagon documents.
The NNSA plans to build some 480 B61-12 bombs and has some 350 W88 warheads, the nonprofit Federation of American Scientists estimated this year.