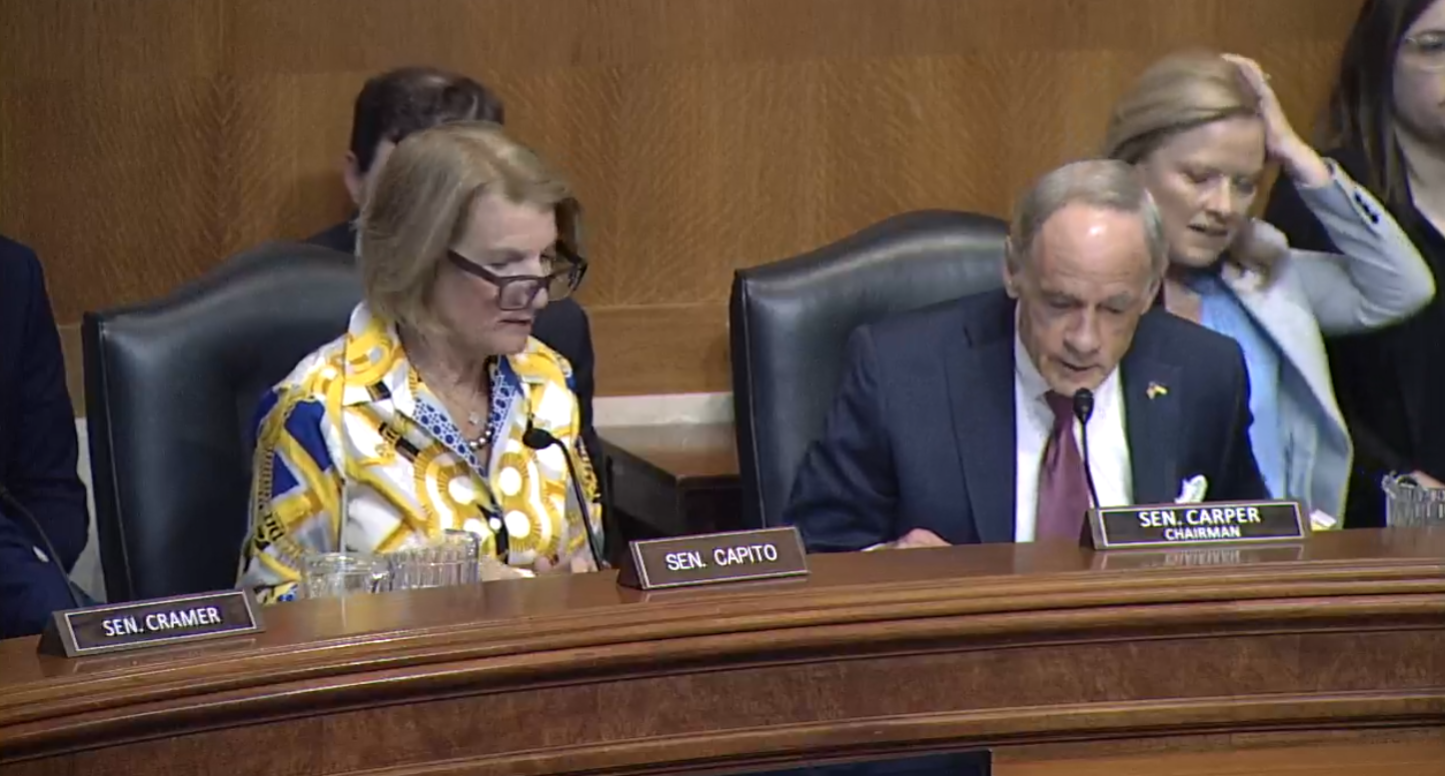 A bill that would force reviews of the Nuclear Regulatory Commission's efficiency and extend caps on industry liability for catastrophic nuclear accidents cleared a Senate committee Wednesday on a 16-3 bipartisan vote.
Only three Democrats opposed the bill, the Accelerating Deployment of Versatile, Advanced Nuclear for Clean Energy (ADVANCE) Act of 2023. Sens. Bernard Sanders (I-Vt.), Edward Markey (D-Mass.) and Jeff Merkley all voted no.
Among other things, the Capito-authored bill would:
Extend the $13-billion liability cap known as the Price-Anderson Act by 20 years to 2045.
Require annual reports, by 2025, from the Department of Energy on the U.S. nuclear-waste inventory and the associated federal financial liability.
Mandate that the Nuclear Regulatory Commission assess every three years whether the agency uses "the most efficient metrics and schedules" to issue licenses.
Markey, a staunch critic of the nuclear industry, spoke the most of the three "no" voters at Wednesday's business meeting, where he said he opposed the bill because it attempted, in his view, to make the NRC an advocate for nuclear technology and not only a safety regulator of it.
"The Advance Act takes unprecedented steps to have the Nuclear Regulatory Commission promote nuclear exports. Not simply nuclear safety, which is its core mission, all to prop up the ailing U.S. nuclear industry at home and abroad," Markey said. And I remain deeply concerned about this extension of the Nuclear Regulatory Commission's mission."
Markey also objected to the bill's proposal to help developers of new nuclear technologies recover costs associated with getting their NRC licenses, and generally to helping fund any new nuclear reactors before the U.S. created a permanent repository for spent nuclear fuel.
"While I don't fully agree with your characterization of the legislation, I hear your concerns," Sen. Tom Carper (D-Del.) the chair of the committee said. "[W]e look forward to finding, if we can, ways to address our nation's growing nuclear spent fuel and waste to ensure that we have an effective and efficient decommissioning process that helps us safely, when needed, close a nuclear site."