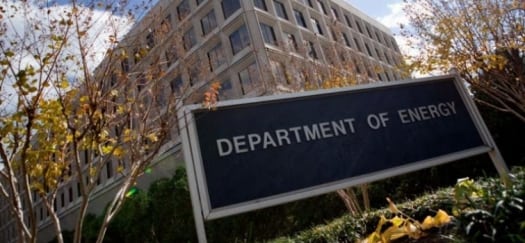 With a spike in COVID-19 cases, top management at the Department of Energy plans to go "the extra mile" by stretching out its phased return to onsite work for employees and contractors by an additional month, according to a Thursday email.
"We are delaying our increased return to the workplace schedule by one month," Tarak Shah, chief of staff to Secretary of Energy Jennifer Granholm, said in a "Team DOE" email Thursday viewed by Weapons Complex Monitor. 
A DOE spokesperson also confirmed, in a Friday email, the return onsite schedule is being pushed back by a month. 
While most 'site critical" staff are already on site ahead of the original Jan. 18 target, Shah said the return for many "site flexible" employees will be Feb. 28 and, finally, most "site optional" site are expected to come back to pre-pandemic work stations by March 14. In both cases that is a month later than Shah outlined in an earlier staff memo in December. 
Back then, Shah told DOE employees of plans to phase out "maximum telework" and move to something more akin to a pre-pandemic operating stance by mid-February.  
Even earlier this week, a DOE headquarters spokesperson said the federal agency was still planning to stick with the earlier timetable. 
"Per DOE's COVID-19 Workplace Safety and Reentry Framework, employees who are designated site critical will return to the worksite on Jan. 18," the spokesperson said. However, "we are closely monitoring data about COVID-19 and will make adjustments as necessary to keep our team and our communities safe."
But the data both nationally and in the DOE office in charge of nuclear cleanup, showed a dramatic jump recently in COVID-19 cases. 
The DOE Office of Environmental Management recorded a whopping 540 confirmed cases of COVID-19 within the past week, an increase of 227 from the prior week, an office spokesperson said via email. That number, apparently fueled by the contagious omicron variant, is higher than the 470 weekly cases recorded in the cleanup complex a year ago when vaccines were still only available to the oldest, most vulnerable people.  
Also in Thursday's email, Shah said DOE is ready to start taking a harder line with the less than 10% of agency employees who remain unvaccinated. 
"This week, we will proceed with the next phase in progressive discipline for unvaccinated Federal employees who haven't applied for an exemption," Shah said. "The next phase for these employees is a 14-calendar day unpaid suspension. I urge these employees to get vaccinated or they will continue in a disciplinary process where the final step is removal from Federal service."
In addition, the DOE chief of staff said the agency is becoming more selective on what type of masks employees can wear indoors, because homemade cloth masks "are no longer acceptable unless it is worn over a surgical mask."  Employees are "strongly urged to use KN-95 or N-95 masks," and DOE is working to make more of those available to staff, Shah said.
"We are also standing up a testing capacity around the Complex," Shah said. The effort, which should commence Feb. 15, will target both unvaccinated workers and perhaps even some vaccinated individuals who work in confined spaces, Shah said. 
The return plan would implement the DOE framework, a 20-page document dated Dec. 15, which builds upon and tweaks prior agency guidance.
The policy does include plenty of caveats and qualifiers. For example, it said managers will have leeway to make their own calls on telecommuting. 
"While this plan focuses on reentry to the workplace, DOE recognizes that many employees may be authorized to telework a greater percentage of their time post-reentry than they did before the COVID-19 outbreak based on the experience gained during this pandemic," the December document says.