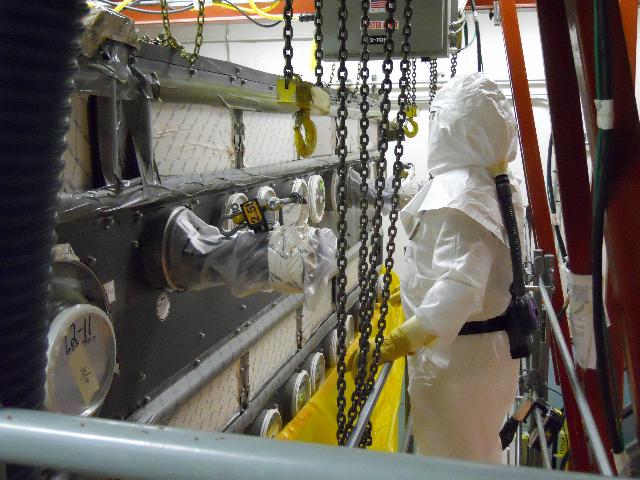 Debriefings got underway this week on major Energy Department contracts issued in December for the Hanford Site in Washington state, a source said Thursday.
Debriefs were held in Richland, Wash., on the potential 10-year, $4 billion support services contract announced Dec. 5 for Hanford Mission Integration Solutions (HMIS), a joint venture comprised of Leidos, Centerra, and Parsons.
Leidos and Centerra make up the incumbent team providing site-wide landlord services that include security, road maintenance, running the Hazardous Material Management and Emergency Response (HAMMER) Federal Training Center, and overseeing electric and water infrastructure upgrades.
The current Mission Support Alliance team has a contract, valued at $4.3 billion, that dates to May 2009 and continues under an extension that could run until May 25 if necessary.
The Energy Department Office of Environmental Management said three proposals were submitted for the cost-plus contract that includes cost-reimbursement and indefinite-delivery indefinite-quantity contract line item. Industry speculation has suggested the other two teams are headed by Huntington Ingalls Industries and PAE of Falls Church, Va.
Debrief sessions should occur next week for the winners and losers of a potential 10-year, $10 billion contract for ongoing remediation of the Hanford Site's Central Plateau. The contract was awarded by DOE on Dec. 12 to the team of AECOM, Fluor, and Atkins. The parent companies of Los Angeles-based AECOM and Texas-based Fluor are in the process of selling their government contracting businesses.
The winning proposal was apparently chosen over proposals led by incumbent Fluor and Bechtel, a second source said. The new agreement would replace the current $6.4 billion contract held by Jacobs subsidiary CH2M, which has an extension that could keep it in place until September if necessary. The mostly solid-waste work includes cleaning up some of Hanford's most hazardous waste streams, and cleaning up plumes of contaminated groundwater before they can reach the Columbia River.
Debriefing sessions are private meetings between DOE managers and bidders, in which the agency discusses the basis for its selection. The debriefs also set in motion a 10-day clock allowing losers to file a bid protest with the U.S. Government Accountability Office.
No one had protested the award of the Hanford contracts, as of late Thursday.

Register
for the
2019 RadWaste Summit
before July 26th to save up to $200! New session topics include a brand new pre-conference workshop, 
Decision-Making Tool for Waste Disposal
, new procurement initiatives, DOE EM's mercury challenge for decontamination and decommissioning at Oak Ridge, hot topics on TENORM waste management, and more! Check out the
agenda here
.