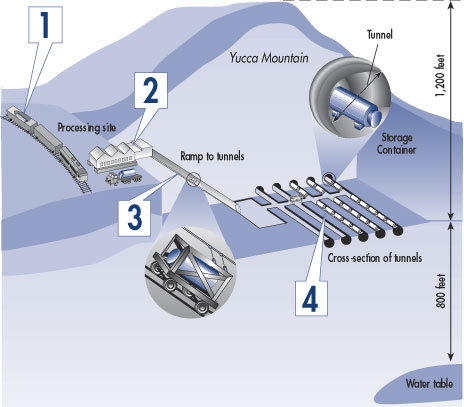 The House Appropriations Committee is scheduled Tuesday to consider an energy and water funding bill that, for the first time in years, provides no money to resume federal licensing of the Yucca Mountain nuclear waste repository in Nevada.
Instead, the legislation would offer an unspecified appropriation for initial interim storage operations for spent reactor fuel from commercial nuclear power plants.
This represents a full turnaround in the House, which in recent years has supported the Trump administration's budget requests to restart the licensing proceeding for the long-stalled disposal site. But that was before Democrats retook control of the lower chamber in the 2018 midterm election.
"Since Yucca shut down in 2010, Congress has passed and Presidents from both parties have signed 8 appropriations bills that included no funding to restart the project," Griffin Anderson, spokesman for House Appropriations energy and water development subcommittee Chair Marcy Kaptur (D-Ohio), said by email Tuesday. "This bill continues that trend. Rep. Kaptur has chosen to dedicate scarce budgetary resources toward developing other options for nuclear waste, including investing in our nation's crumbling water infrastructure, and preparing our country's innovation economy to globally compete."
Appropriators this week rolled out the $46.4 billion bill for fiscal 2020, which would fund the Department of Energy, Nuclear Regulatory Commission, and other agencies. Kaptur's panel forwarded it to the full committee Wednesday after a 30-minute markup, though not without some complaints from two senior Republicans.
"Yucca Mountain is the law of the land and the energy and water appropriations bill should reflect that fact," subcommittee Ranking Member Mike Simpson (R-Idaho) said during his opening statement to the meeting.
Rep. Kay Granger (R-Texas), the top Republican on the full House Appropriations Committee, concurred: "We must stop ignoring the federal government's responsibility to develop and permit the repository for nuclear waste."
There was already rumbling late in the week of Republican efforts to insert money for the repository into the appropriations legislation as it proceeds, E&E News reported Thursday. Spokespeople for Simpson and Granger did not respond to queries regarding that effort.
More details about the bill's spending levels and program authorizations are expected to be released in a bill report Monday ahead of the Appropriations Committee markup. That session is scheduled to begin at 10:30 a.m. Tuesday.
In amending the 1982 Nuclear Waste Policy Act, Congress in 1987 directed DOE to send the nation's spent nuclear power reactor fuel and high-level radioactive waste from defense nuclear operations to a disposal site to be built under Yucca Mountain, roughly 100 miles northwest of Las Vegas. The agency in 2008 filed its license application with the NRC, but the Obama administration defunded the proceeding two years later. It eventually undertook a "consent-based" approach for siting nuclear waste disposal that did not get far before the Trump administration took office in 2017 and refocused on Yucca Mountain.
The GOP-led House backed the White House requests for both fiscal 2018 and 2019 for Yucca Mountain licensing funding, last year adding $100 million to the nearly $170 million sought for the Energy Department and Nuclear Regulatory Commission. But Senate appropriators in those years focused on funding programs to consolidate the waste in a small number of temporary sites ahead of the actual repository. In the end, neither approach was funded.
For the federal budget year beginning Oct. 1, the Energy Department requested $116 million for Yucca Mountain and interim storage programs. The NRC wants $38.5 million for licensing activities.
The Senate Appropriations energy and water committee, headed by Sen. Lamar Alexander (R-Tenn.), has not yet issued its version of the fiscal 2020 bill.
Nevada has fought tooth-and-nail for decades against being forced to accept other states' nuclear waste. It filed more than 200 technical and legal contentions with the NRC against the Energy Department license application, and has more ready to go if the proceeding resumes.
The state estimates it will spend another $50 million to support its contentions during an NRC adjudication. The process would take four to five years, costing the Energy Department over $1.6 billion and the NRC $330 million, according to an estimate from Robert Halstead, head of the Nevada Agency for Nuclear Projects.
On Tuesday, Rep. Dina Titus (D-Nev.) thanked House Speaker Nancy Pelosi (D-Calif.) and Democrats on the House Appropriations Committee for blanking Yucca Mountain in the energy bill. Pelosi has been reported to have committed to opposing the program in exchange for support from Nevada lawmakers for her election as House speaker earlier this year.
"This fight is far from over, but I'm encouraged by the support on our side," Titus tweeted.
In total, the House bill would provide a $1.8 billion spike from the enacted energy and water appropriation for fiscal 2019.
Appropriators recommended $37.1 billion for the Energy Department, well above the agency's request for $31.7 billion. The NRC would get $898.5 million, down from its request for $921.1 million as the Yucca funding was stripped out even as some other programs got plus-ups.