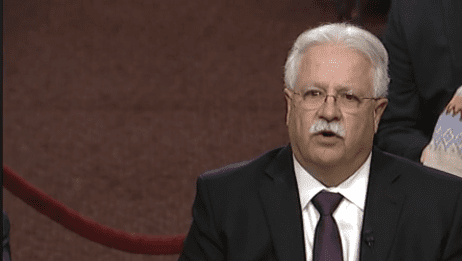 WASHINGTON — William Bookless, nominated to be second-in-command at the U.S. National Nuclear Security Administration (NNSA), defended the agency's plan to build two nuclear-warhead-core factories in the face of a double-edged inquisition from a pair of Senate Democrats here Thursday.
Facing pressure from a third Democratic lawmaker during his confirmation hearing, the physicist and longtime Lawrence Livermore National Laboratory staffer also indicated he could support renewing the primary U.S.-Russian nuclear arms control treaty.
Despite the hard-edged questioning, no member of the Senate Armed Services Committee said they would oppose Bookless' confirmation as principal deputy administrator for the NNSA, which manages the Department of Energy's nuclear weapons stockpile. The committee had not not set a date to vote on his nomination at deadline Friday for Nuclear Security & Deterrence Monitor.
During the hearing, Sens. Jack Reed (D-R.I.) and Martin Heinrich (D-N.M.) teamed up with a good-cop, bad-cop approach to question Bookless about the NNSA's plans to produce plutonium pits at both the Los Alamos National Laboratory in New Mexico and the Savannah River Site in Aiken, S.C. The agency says it needs both sites in order to meet the Pentagon's demand for 80 pits per year by 2030. 
Reed, the committee's ranking member, used the open palm in questioning. The Senate's top military-policy Democrat asked Bookless if the NNSA should focus on "the most effective pathway" to producing 80 pits a year by 2028, whatever the particulars of the approach. 
Bookless left no ambiguity about his position. Maximum effectiveness is crucial, "combined with the resiliency that having the second pit-production site will afford the nation," he said.
Shortly afterward, Heinrich stepped in and went for the throat with a string of leading questions. A staunch supporter of Los Alamos, which the NNSA has tapped to produce about 30 pits a year by 2026, Heinrich asked Bookless why the agency needed duplicate pit factories if it did not also require duplicate nuclear weapon-assembly and uranium processing sites.
"I think that right now, for pit production … we don't have the capacity, so we're not duplicating at this stage," Bookless said." We are planning to have two locations moving forward. We have no locations at the moment."
"It will be impossible to stand up a second facility [in South Carolina] without an enormous amount of time spent by the existing, very small pool of experts to make that possible when we also need to stand up the first primary production facility" at Los Alamos, Heinrich said.
"If confirmed I look forward to delving into this whole subject much deeper," Bookless said.
"Oh, I look forward to that, too," Heinrich replied.
The split pit-production complex, at an estimated $30 billion over its mission lifetime, is neither the cheapest nor the quickest way for the NNSA to produce 80 pits a year, according to a study commissioned by the agency. Even an alternative that is about half as costly, and which would allow NNSA to produce 80 pits a year sooner, would take until 2033 to hit that target, according to an engineering analysis by Parsons Government Services. The Trump administration set the 80-pits-a-year goal in the 2018 Nuclear Posture Review published in February.
After Heinrich left the room, Sen. Elizabeth Warren (D-Mass.) leaned hard on Bookless to take a position on the U.S.-Russian New Strategic Arms Reduction Treaty (New START). The deal runs through 2021, but President Donald Trump and Russian President Vladimir Putin could extend it into 2026. Eventually, Warren got Bookless to say he would "lean towards extending" New START, which the Barack Obama administration negotiated. The pact puts  a hard cap on the number of warheads Washington and Moscow may deploy. 
Senate Democrats fear the Trump administration plans to ditch the treaty. Those worried point to the administration's announcement last month that it will pull out of the Cold War-era Intermediate-Range Nuclear Forces Treaty. That pact, from which the U.S. had not formally withdrawn at deadline Friday, bans Washington and Moscow from deploying most ground-launched cruise missiles, both nuclear and conventional.
The White House nominated Bookless to be the NNSA deputy on Aug. 16. If confirmed in the final days of the 115th Congress, which is notionally to gavel out Dec. 14, he would fill the last of four senior NNSA management jobs that require Senate confirmation.
The others are: NNSA administrator; deputy administrator for defense programs; and deputy administrator for defense nuclear nonproliferation. Half of those jobs will be filled by former Livermore hands if Bookless gets the thumbs-up from the Senate.
Bookless retired from government service in 2015, after serving as assistant laboratory director for policy and planning at the Brookhaven National Laboratory in New York state. Prior to being posted to Brookhaven, he was an adviser to then-NNSA Administrator Tom D'Agnostino. He spent more than three decades at Livermore, where among other jobs he served as deputy associate director for the facility's nuclear weapons program and associate director for safety and environmental protection.
Bookless got his doctorate in physics in 1980 from the University of Wyoming: the same year he joined the Lawrence Livermore National Laboratory.
According to someone familiar with the NNSA's job search, Bookless was one of at least three people offered the job as Administrator Lisa Gordon-Hagerty's right hand. 
Asked by Nuclear Security & Deterrence Monitor why he chose to emerge from retirement, Bookless said he "felt a sense of obligation, really, to service, when asked."