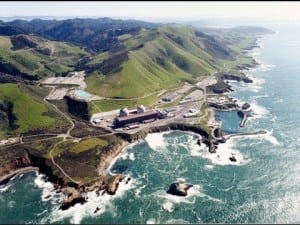 California's last operating nuclear power plant got yet another cash injection Monday morning as the Department of Energy announced it could award more than a billion dollars to the facility to keep it online past its scheduled shutdown date.
If finalized, Diablo Canyon Power Plant should receive around $1.1 billion in aid from DOE as part of its civil nuclear credits program, the agency said in a Monday press release. That cash "creates a path forward for Diablo Canyon to remain open," DOE said.
With the provisional award, Diablo Canyon takes the lion's share of the annualized $1.2 billion share of the nuclear plant credits Congress provided last year in the Infrastructure Investment and Jobs Act.
Pacific Gas & Electric (PG&E), which operates the Avila Beach, Calif., Diablo Canyon plant, has said it planned to take the facility's two reactors offline in 2024 and 2025, respectively.
Monday's award is a conditional one, DOE said. The final terms of the bailout are "subject to negotiation and finalization."
"This is a critical step toward ensuring that our domestic nuclear fleet will continue providing reliable and affordable power to Americans as the nation's largest source of clean electricity," Secretary of Energy Jennifer Granholm said in a statement. "Nuclear energy will help us meet President Biden's climate goals, and with these historic investments in clean energy, we can protect these facilities and the communities they serve."
Under its $6 billion civil nuclear credit program, unveiled as part of the Infrastructure Investment and Jobs act in 2021, DOE planed to award credits over a five-year period in roughly $1.2 billion increments. The program's first funding cycle was targeted specifically at nuclear facilities facing imminent closure.
Sen. Dianne Feinstein (D-Calif.) applauded the bailout in a Monday statement. "This short-term extension is necessary if California is going to meet its ambitious clean-energy goals while continuing to deliver reliable power," Feinstein said. "This is especially critical as California's electric grid has faced increasing challenges from climate-fueled extreme weather events."
A one-time supporter of Diablo Canyon's planned closure, Feinstein recently changed her mind, writing in a June op-ed that the plant should continue operating until its baseload can be replaced with renewable energy.
California has already taken action to keep Diablo Canyon from shutting down. Gov. Gavin Newsom (D) in August signed a sweeping climate bill that, among other things, authorized up to $1.4 billion in state-stewarded loans for the plant.
Meanwhile, PG&E Sep. 31 applied with the Nuclear Regulatory Commission to renew Diablo Canyon's operating license. Hoping to streamline the process, the utility asked NRC to pick up where it left off on a 2009 license extension request that was scrapped in 2018 when PG&E decided to close the plant.
Diablo Canyon's two reactors have a combined generating capacity of 2,400 megawatts, enough to power about 3 million homes, according to the utility's website.