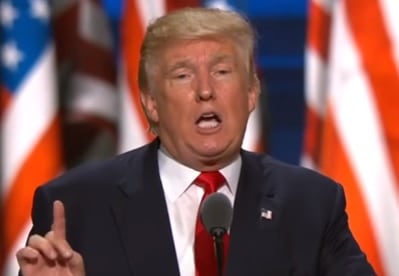 Joining the recent exodus of Republicans from the Donald Trump train, a group of 13 senior officials who served in the George W. Bush administration in the Departments of Energy and Transportation, as well as the Environmental Protection Agency, on Wednesday released a statement opposing the GOP presidential nominee. "As Republicans, we are united in our opposition to the election of Donald Trump, our party's nominee to be President of the United States. None of us has ever before publicly opposed a Republican presidential nominee," the statement says.
The group, which includes former EPA Administrator Christine Todd Whitman, Deputy EPA Administrator Linda Fisher, Assistant Energy Secretary David Garman, and Secretary of Transportation Mary Peters, decried Trump's pledges to deregulate much of the energy and manufacturing sectors. "It is not good government, and it does not serve the public, simply to call for eliminating regulation without regard to the circumstances, as Mr. Trump has done," the statement says.
"We believe in effective government, a society of hope and optimism balanced with realism, and a politics of civility and honesty. None of these values are present in Donald Trump's campaign," the group wrote.
In a similar statement last month, more than 50 senior Republican national security and foreign policy experts and advisers said Trump is not fit to lead the country.