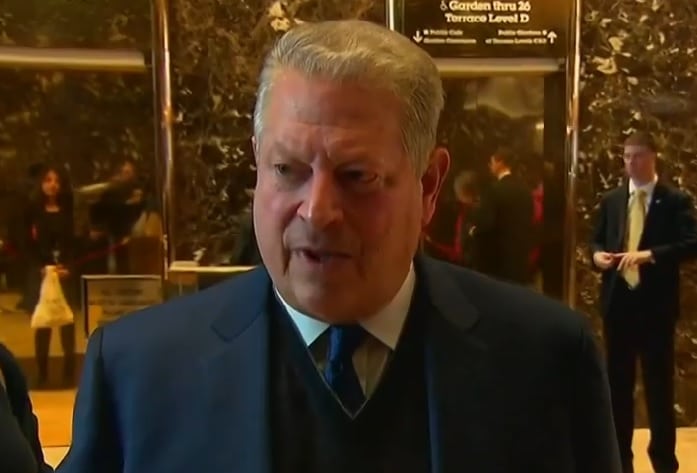 Surprising many, climate activist and former Vice President Al Gore met with President-elect Donald Trump and his daughter Ivanka on Monday at Trump Tower in New York City. "The bulk of the time was with the president-elect, Donald Trump. I found it an extremely interesting conversation, and to be continued, and I'm just going to leave it at that," Gore told the tower's now ever-present pool of reporters before leaving, according to video posted by C-SPAN.
After an unsuccessful presidential bid in 2000, Gore became one of the world's best-known climate activists, producing the award winning documentary "An Inconvenient Truth" and maintaining a presence at meetings of the United Nations Framework Convention on Climate Change. Gore has also founded a nonprofit, the Climate Reality Project.
Trump, on the other hand, has denied the science of climate change with some consistency. In the past he has described climate change as a hoax perpetrated by the Chinese, and called global warming "bullshit." Near the end of the campaign he tried to deny those statements, but they have been well recorded from his Twitter account.
Trump also pledged during his campaign to withdraw the U.S. from the international Paris Agreement on climate change, the adoption of which Gore attended, and to roll back several existing federal climate change initiatives. More recently, Trump has backpedaled on some of these commitments, telling The New York Times in late November that he's keeping an "open mind" about the Paris Agreement.
Ivanka, however, has reportedly taken a different stance than her father on the issue. According to recent reports form Politico, the future first daughter has indicated she may focus on the climate during his father's presidency.
The idea isn't crazy, Jason Grumet, president of the Bipartisan Policy Center, said Monday at a Washington, D.C., event hosted by the Christian Science Monitor. "It is conceivable that consistent with saving coal jobs, bringing back manufacturing, and fundamentally fighting against the absolutely totalitarian regulatory state of the Obama administration, Ivanka Trump could actually propose a rather forward-leaning climate policy and make sure that the secretaries of energy, EPA, interior, and commerce stepped up," Grumet said.
Scott Segal, a partner at law and lobbying firm Bracewell, acknowledged that it would be uncommon for the child of a president to take a political role, but not impossible. "You know we have a first lady, Melania Trump, who is not likely to involve herself in cutting-edge public policy, so it may be logical that other people in the inner Trump circle would involve themselves in what are more hard-edge public policy issues in the same way that both Michelle Obama and Laura Bush did," he said. "It's not as kooky as you might think."