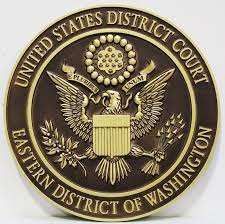 Management and contractors at the Department of Energy's Hanford Site in Washington state were targeted in a lawsuit filed this week by a group of about 290 employees resisting a federal order to take the COVID-19 vaccine.
Security guards and various other employees at the site filed suit Tuesday in the U.S. District Court of Eastern Washington seeking an injunction against the vaccine mandate at the nuclear cleanup property that produced plutonium for the U.S. military during the Cold War.
The plaintiffs, represented by a law firm associated with the Washington state-based Silent Majority Foundation, want the federal court to step in and prevent their "imminent and wrongful termination."
A look through the complaint indicates roughly a third of the plaintiffs are guards or some sort of security staff at the sprawling 586-square mile property.
"Defendants are on notice that the Hanford Site will have insufficient workers, including Hanford Guards and other employees required to maintain a minimum safe ("min safe") work environment at the Hanford Site as of November 29, 2021, absent a change in position," according to the introduction to the 130-page legal filing.
This includes the majority of "Hanford Patrolman" positions that require special clearances and training to "respond to active shooters, hostage situations, disgruntled employees, vehicle accidents, medical emergencies and mutual aid to law enforcement agencies," according to the complaint. It could take months to restock the patrol staff once suitable job candidates are identified, according to the suit.
The list of defendants in the case include DOE's site manager for Hanford Brian Vance, Amentum-led Central Plateau Clean Co. and Amentum-led Washington River Protection Solutions, Bechtel, Hanford Mission Integrated Solutions, Navarro-led Hanford Laboratories Management and Integration, the Pacific Northwest National Laboratory and President Joe Biden.
"DOE does not comment on pending or ongoing litigation," a spokesperson for the federal agency said in a Thursday email. Likewise, a spokesperson for Central Plateau Cleanup also declined comment. 
Among the plaintiffs is David Donovan, a security officer and K-9 handler for Leidos-led Hanford Mission Integration Solutions, who is also president of the Hanford Guards Union. Donovan sought a religious exemption to taking the vaccine "but has been provided no accommodation," according to the suit.
Other employees range from engineers to industrial hygienists, construction workers and some managers at the DOE property where more than an estimated 10,000 people work.
Some plaintiffs claim they have yet to receive religious exemptions, others say they have "natural immunity" by virtue of having contracted the virus or possessing a high antibody count. Others say they are teleworkers, or work outside and are willing to use physical distance or wear masks.
Attorneys for the plaintiffs make various legal arguments. They contend the contractor vaccination mandates stemming from September executive orders from President Joe Biden violate either freedom of religion, Americans With Disability Act standards or federal procurement law.
Prior vaccination-related suits have been filed by holdouts at Los Alamos National Laboratory in New Mexico, Oak Ridge National Laboratory in Tennessee and the Savannah River Site in South Carolina.