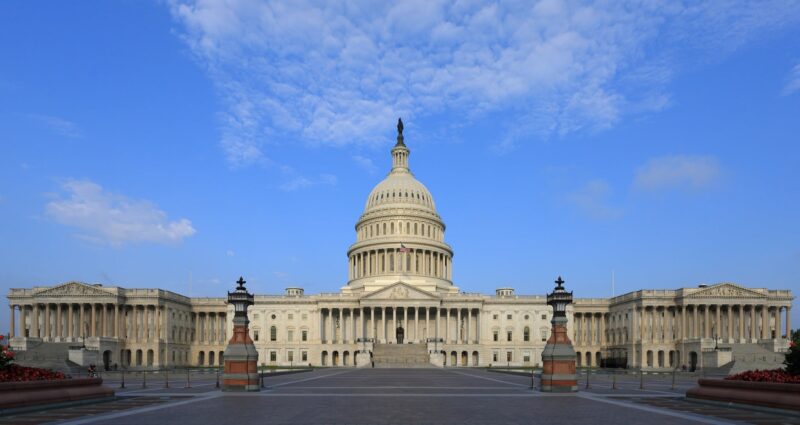 House authorizers want to kill a megaton-capable gravity bomb and a nuclear-tipped, sea-launched cruise missile, but their counterparts in the Senate do not.
The split on the Hill over the two weapons, which the Joe Biden administration wants to kill, was revealed Thursday in dueling National Defense Authorization Acts (NDAA) for fiscal year 2023. 
Democrats control both chambers of Congress, but only by a razor-thin, 51-50 margin in the Senate, where the party needs Vice President Kamala Harris' tie breaking vote on the floor. Senate committees, meanwhile, are evenly split. Republicans have opposed, as a bloc, canceling the weapons. 
The Senate Armed Services Committee approved its NDAA behind closed doors this week, after which Committee staff briefed the press on the bill. Exchange Monitor has reviewed a copy of the House Armed Services NDDA — obtained by our affiliate publication, Defense Daily — which was scheduled for Committee consideration next week. 
The House committee's NDAA would authorize no funding for either B83 or the cruise missile. The Senate committee's bill has $20 million for continued development of the W80-4 sea-launched warhead variant and "requires a study on the defeat of hard and deeply buried targets prior to expending or obligating funds to deactivate, dismantle, or retire the B83-1 nuclear gravity bomb," according to an online bill summary. 
Asked whether the NNSA has told the Senate Armed Services Committee that the B61-12, a homogenized version of four prior B61 bombs that adds earth-penetrating capabilities, would be unsuitable for use against hardened targets, a Committee staffer said "we asked for a report on that" during the Donald Trump administration, and "we have not gotten a detailed report."
Overall, the Senate committee's NDAA would authorize roughly $22 billion for NNSA, about $600 million more than requested. That includes some $2.9 billion, about $200 million more than requested, for modernizing plutonium pit production factories at the Los Alamos National Laboratory in New Mexico and the Savannah River Site in South Carolina. 
The extra pit funding for South Carolina would go to long-lead items for Savannah River, including glove boxes, that NNSA administrator Jill Hruby asked Congress for on top of the White House's initial budget request for NNSA.
The House bill meets the NNSA's request, including for pit programs: $21.4 billion for the agency and about $2.7 billion for pits.