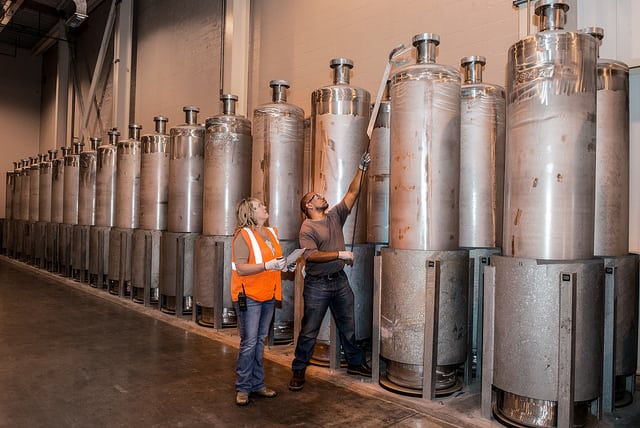 President Donald Trump plans to nominate consultant Anne M. White of Michigan to head the Energy Department's Office of Environmental Management, which oversees cleanup of DOE's Cold War nuclear complex, the White House announced Wednesday.
The intent to nominate declaration was issued nearly a year into Trump's presidency. The position of assistant energy secretary for environmental management, or EM-1, has been held by two longtime DOE managers in that time.
White, founder of Bastet Technical Services LLC, has worked for more than 25 years within the nuclear sector, with a focus on project and program management, according to the announcement.
She has extensive experience at many of the sites she would oversee as EM-1, the White House said: "Further, Ms. White has supported a number of emerging nuclear power nations to develop legal and regulatory structures and national policies."
White holds a master's in nuclear engineering from the University of Missouri. She also has a bachelor's degree in mathematics from the University of Kansas, according to her LinkedIn profile page.
Her LinkedIn page says she is working for Atkins on a decontamination and decommissioning planning project for the Diablo Canyon nuclear plant in California, which is scheduled to close in 2025. White's work included leading staff in early planning and cost estimates for submission to the California Public Utilities Commission.
The online biography also says White has provided consulting services to DOE's Los Alamos National Laboratory in New Mexico.
There was no answer Thursday at a telephone number listed for Bastet Technical Services in Denver. White also did not immediately respond to an email request for comment. The Trump administration press release did not indicate when exactly it plans to formally send White's name to the Senate.
If confirmed by the Senate, White would succeed James Owendoff, a DOE veteran who in June was promoted to the dual roles of acting EM-1 and principal deputy assistant secretary for environmental management. Owendoff took over for Sue Cange as interim head of DOE's $6.5 billion-per-year cleanup operation. The office has not had a permanent leader since Monica Regalbuto stepped down as Trump took office.
White a 'Doer' Who 'Flies Below the Radar'
The Energy Communities Alliance is anxious to work with White and believes the presumptive nominee brings the proper qualifications to the Office of Environmental Management, ECA Executive Director Seth Kirshenberg said.
"She will bring an in-depth knowledge of the EM program and defense high-level waste issues to the Department," Kirshenberg, whose organization represents communities near DOE sites, said by email. "With the current leadership in EM, she will be successful in directing the program.  She has a lot of challenges ahead," he added.
One industry source who spoke to Weapons Complex Monitor on Thursday was effusive in his praise of White.
"She is exactly what they need" at EM, the source said. As a consultant, "she has been helping other countries solve their waste problems as well as the U.S."
The source described White as "a quiet person who knows what needs to be done," adding that she often "flies below the radar [while being] one of those real live doers that many people have called on repeatedly."
A second source said Thursday she doesn't know White well but dealt with the prospective nominee a couple years ago on evaluation of Nuclear Regulatory Commission waste characterization issues. White was "very kind and very good with her time," the second source said. Given that White's name has been rumored for a while, the second source hopes the nomination would move through the confirmation process quickly.
While the Trump administration and many members of Congress want to see this important DOE post filled soon, history would indicate the confirmation process will take months, two other sources cautioned. During the Obama administration, Regalbuto had to be nominated twice, because her initial 2014 nomination expired, before she was confirmed in 2015.
Other potential EM-1 names that have bubbled up in the past year have included Stoller Newport News Nuclear Vice President Barbara Mazurowski, Atkins executive Alan Parker, and John "Rick" Dearholt, a former DOE contractor at the Oak Ridge Site in Tennessee.