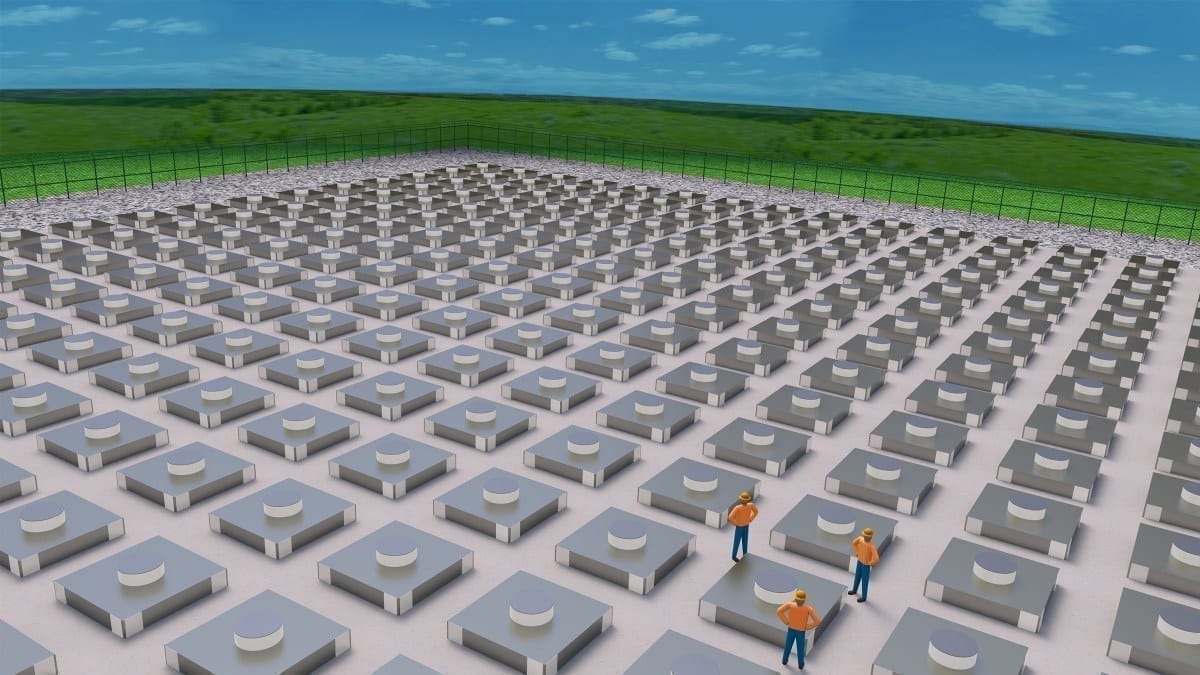 In a meeting with state lawmakers in New Mexico last week, a Holtec International executive sought to allay fears that the company's proposed spent fuel storage facility in Eddy County would become a permanent repository for nuclear waste.
"Interim storage — and it is interim — will be measured in decades," Ed Mayer, the project lead for Holtec's proposed interim storage site said in Hobbs, N.M., during a Sept. 1 meeting of the New Mexico legislature's interim joint Science, Technology and Telecommunications Committee. "By license, this is interim storage, it cannot be a permanent repository … [i]t's not designed to be a permanent repository."
Holtec's proposed consolidated interim storage facility (CISF), which Nuclear Regulatory Commission staff have already recommended licensing, would operate for at least 40 years. In theory, the initial 40-year license could be extended indefinitely, NRC says. Holtec has said that any interim storage facility should remain online for at least 300 years.
At last week's meeting in New Mexico, Mayer told state lawmakers that Holtec's interim storage project would be well-equipped to store spent fuel for longer than four decades.
"[T]hese canisters are remarkably robust. And they're going to last well beyond the requirements of this facility," Mayer said.
Camden, N.J.-based Holtec is one of two private companies to seek a federal license for a CISF in recent years. The company's proposed site, alongside a similar project planned for west Texas by the Waste Control Specialists-Orano joint venture, Interim Storage Partners (ISP), aims to pool spent nuclear fuel from multiple power plants at a single location.
CISFs are meant to be stopovers for spent fuel bound for permanent repositories, providing logistical backstops for both a permanent repository and the power plants burning the nuclear fuel. No permanent repository exists in the U.S., with the proposed Yucca Mountain site in Nevada politically dead since 2011.
The Nuclear Regulatory Commission, regulator of civilian nuclear power plants and the nuclear material used there, recommended in July that Holtec's project receive a license. The commission in September 2021 actually granted a 40-year license to the proposed ISP site, though that prompted an immediate legal challenge from host state Texas.
In a 2017 response to a DOE request for information on privately-owned interim storage facilities, Holtec told the agency that such a facility "should have a minimum service life of 300 years."
A spokesperson for NRC Wednesday said that the proposed sites could be eligible for 40-year license renewals "with no limit on the number of renewals."
Getting such a renewal could be "significantly challenging," Rod McCullum, used fuel and decommissioning lead at the industry's main trade group, the Nuclear Energy Institute, told RadWaste Monitor in an interview Friday. "You'd have to demonstrate through an aging management program that you could still meet all the design basis requirements of the systems."
According to Holtec, its CISF would serve as "temporary storage, complementary to a permanent deep repository." A company spokesperson told RadWaste Monitor via email Thursday that the project "will be designed, constructed and operated per NRC regulations as an interim facility."
If it gets built, Holtec has said that its proposed site could store roughly 8,700 tons of spent nuclear fuel in around 500 canisters, with capacity for an additional 10,000 canisters to be added via license amendments.
The proposed ISP site, meanwhile, is designed to hold around 40,000 tons of spent fuel — around half of the country's current inventory.
Opponents of the proposed interim storage sites have argued that, in the absence of a permanent solution for spent fuel, both Holtec's and ISP's site would be de facto permanent repositories.
"Without a repository to ship it off to, you can't call it interim," Kevin Kamps, a radioactive waste specialist with the anti-nuclear advocacy group Beyond Nuclear, told RadWaste Monitor during an interview Wednesday. "The future is uncertain."