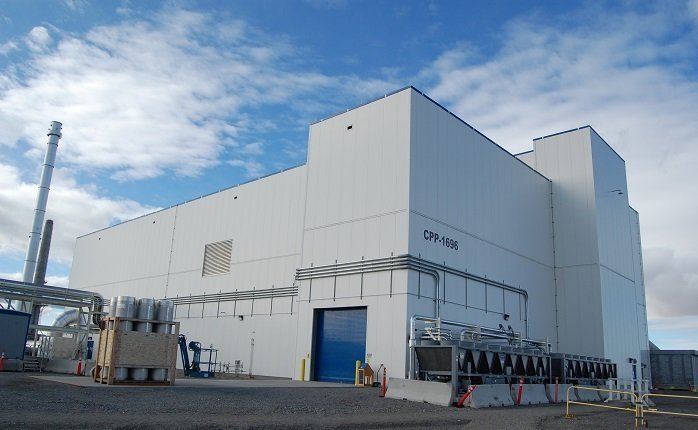 The Department of Energy and its cleanup contractor at the Idaho National Laboratory this week resumed warming up a major facility to treat sodium-bearing radioactive waste, an agency spokesperson said.
"Warmup resumed earlier this week," the DOE spokesperson said in response to an Exchange Monitor inquiry. The agency has said previously the heat-up should take about 10 days, which would point to operational startup around the end of next week.
Jacobs-led Idaho Environmental Coalition completed "minor repairs" to the Integrated Waste Treatment Unit (IWTU) and "resumed the heat-up process in anticipation of beginning radiological operations this winter," a DOE spokesperson said via email Thursday.
Repairs to valves within the facility's canister fill cells were needed following a leak of non-radioactive solids in late December, the DOE spokesperson said. The fill cells, near the end of the IWTU works, are where solidified radioactive waste from the site's tank farms is deposited into canisters that are then stored on site in concrete vaults. 
"Welders installed a thick, stainless-steel plate over the hole in the valve body that was responsible for the leak," the spokesperson said, referring to the area around the valve that helps direct the flow of granular solids. Similar modifications were made as a precaution in the other fill cell, the spokesperson said. 
"Once at normal operating temperature and pressure, the IWTU will begin treatment of simulant before transitioning to a blend of simulant and radioactive sodium-bearing liquid waste," the DOE spokesperson said. After the kinks are worked out, the facility will treat the radioactive waste exclusively.
IWTU was designed to convert 900,000 gallons of high-level sodium bearing liquid radioactive waste into a more stable granular form for storage and ultimately disposal. 
The IWTU development has been a long and difficult road. Initially built in 2012 by a CH2M-led contractor, the facility never worked as designed. The next Idaho cleanup contractor, Fluor Idaho, spent years redesigning and overhauling the facility. After some encouraging test runs, the new Jacobs-led team took over responsibility for IWTU in early 2022.
The state of Idaho has already assessed DOE in excess of $10 million in penalties, assessed daily, for its failure to start using the steam reforming technology to fill canisters with granular waste.
The sodium-bearing waste was generated during nuclear fuel reprocessing at Idaho Nuclear Technology and Engineering Center and is now stored in three giant tanks at the Idaho National Laboratory. The DOE says the IWTU will allow Idaho National Laboratory to close tank farms and ultimately ship the canisters of granular waste to a future deep underground geologic repository.