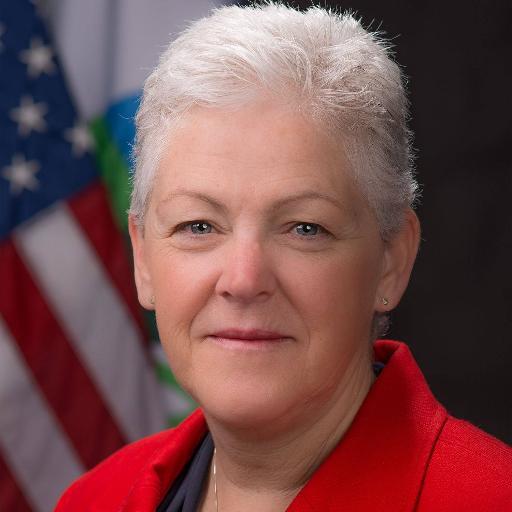 The United States no longer must choose between a healthy environment and a robust economy, Environmental Protection Agency Administrator Gina McCarthy said Tuesday. "The challenges of the past have really been about not having solutions, it's asking people to sacrifice in order to make progress moving forward. I think that dynamic has changed considerably; people are willing to tackle these issues," McCarthy told former Vice President Al Gore during his annual 24 Hours of Reality broadcast.
The EPA chief, who will be out of a job come the January inauguration of President-elect Donald Trump, added that claims that her agency overregulates and is an enemy to American businesses are out of line with the facts. "How about looking at history and fact, because EPA's been around for over 40 years and in that period our GDP has tripled while the amount of air pollution has been reduced by 70 percent. So we are not seeing a dichotomy where anybody has to choose between a strong economy and a strong environment," she said.
McCarthy did not comment directly on the incoming president, who pledged during his campaign to roll back several EPA regulations and even suggested at one point eliminating the agency altogether.
Instead, as has been her practice since the Nov. 8 election of the once-vocal climate change denier, McCarthy painted a picture of an unstoppable national climate movement. "Right now our market is filled with low-cost energy resources that are actually going to carry us forward, no matter what the federal government might choose to do, and that's because states are engaged," she said. "People are acting. They want federal leadership. In the absence of federal leadership, states are going to run."
Backing up that statement later in the program, California Gov. Jerry Brown announced he is establishing a subnational working group to address climate change. "I have quite a group of people behind me, and together we're going to form a real working, achieving group throughout the world to achieve at the subnational level the kinds of things that many of our nation states are not willing to do yet," he said.
Brown has not been shy about boasting of the state's influence on matters of climate change, frequently noting that California has one of the largest gross domestic products in the world. "We states, and California in particular, are not little minor provinces. California has a gross domestic product of over $2.2 trillion; there are only a handful of countries that can even equal that," he said. "It's still the same politics, so if through the political forces at the local and state level we can achieve agreement, that will of necessity percolate up to the national level."
Ignoring that "percolation" would be a very bad idea for Trump, Brown indicated. "We've never had, I guess since George Bush now almost eight years ago, a person who would test the proposition climate change isn't real, or if it is it's not a problem and we can wait. No one has really advocated that for eight years now. If our new president takes that as his position, I believe that the reaction is going to be negative and very powerful throughout the world."
Just prior to the start of the 24 Hours of Reality on Monday afternoon, Gore himself met with Trump, for what he described afterward as a very interesting meeting. At the conclusion of the broadcast, he shared a few words about the incoming president, taking a diplomatic tone. "Of course there are clouds on the horizon, and we can't ignore them, but we don't yet know what actions the United States president-elect will take, and we don't know what policies he will pursue. I personally believe very strongly that it's not naive or Pollyannaish to expect more than what we have sometimes feared," he said.