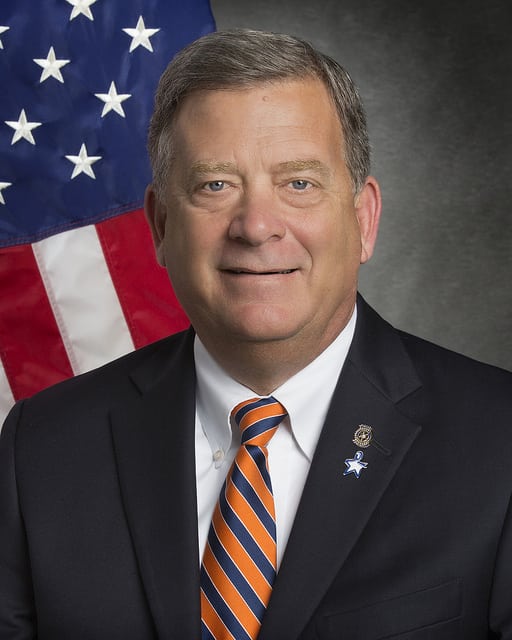 Newly installed Nuclear Regulatory Commission member David Wright has rejected Nevada's request that he recuse himself from any decision on licensing a nuclear waste repository at Yucca Mountain in the state.
Wright pushed back against the state's contention that his actions and comments in recent years showed he supported building the disposal facility in Nevada and could not be impartial in ruling on the Department of Energy's license application. In his 15-page decision, the former energy consultant said he had "carefully considered" Nevada's motion, but found no basis to disqualify himself.
"I decline to recuse myself from the Yucca Mountain licensing proceeding," Wright wrote in the introduction to his decision, which was made public Monday. "As discussed below, my limited participation was not related to the merits of the proceeding, and my public statements were intended as general support for a long-term nuclear waste storage solution. In short, I have not prejudged the technical, legal, or policy issues of the licensing proceeding."
Nevada officials quickly lashed out at Wright's decision, which Rep. Dina Titus (D-Nev.) called "just the latest example of how this entire process has been rigged to license Yucca Mountain no matter what." The Nevada Agency for Nuclear Projects, which spearheads efforts to block Yucca Mountain, said Wright's involvement in any license review strips the state of its right to due process and could lead to a legal response.
The matter is moot at the moment, as neither the NRC nor DOE have received congressional appropriations needed to resume the licensing proceeding halted nearly a decade ago by the Obama administration.
The Bush administration Department of Energy in 2008 filed its license application with the NRC for an underground repository for the nation's commercial and defense radioactive waste. The facility is intended to help the agency meet its 1982 congressional directive to remove that waste from generation sites, primarily nuclear power plants – though the deadline for that to begin was Jan. 31, 1998.
The Obama administration suspended work on Yucca Mountain in 2010, establishing a blue-ribbon commission to study the waste issue and ultimately following the panel's guidance for a "consent-based" process for siting nuclear waste disposal. The Trump administration reversed course again, seeking NRC and DOE funding for licensing operations. The House has backed that request, while the Senate has zeroed out Yucca Mountain in its fiscal 2018 and 2019 budgets.
If it did restart, the five-person commission would have final say on the license. Wright's absence could open the door for a tie vote.
In leadership positions with the South Carolina Public Service Commission and the National Association of Regulatory Utility Commissioners, Wright has been a vocal proponent of resolving the decades-old waste impasse. Whether he meant specifically be sending it to Nevada is at the crux of the dispute.
Wright was sworn in to office on May 30, less than two weeks before the state requested his recusal.
While he was active in NARUC in 2010 when the organization requested to intervene in the NRC adjudication of the license application, Wright said that was solely for the purpose of addressing whether the Energy Department could withdraw its application. The intent was never to debate the merits of the application itself or whether Yucca Mountain was a safe and environmentally viable location for nuclear waste, according to Wright's decision.
He made a similar argument for his involvement in the Yucca Mountain Task Force established in 2005. In announcing its formation, Wright (its first chairman) said the advocacy group was intended "to accomplish the construction and operation of a safe Federal facility for spent nuclear fuel and high-level radioactive waste at Yucca Mountain."
Nevada officials said that was a clear sign of Wright's bias, but he disputed that assessment.
"While I advocated for the federal government to follow the process set forth in the [Nuclear Waste Policy Act], I had formed no opinions on the suitability of the Yucca Mountain site from a safety or environmental perspective," Wright wrote.
Nevada cited other federal law and judicial precedence in making its argument against Wright's participation in the license review. For example: A case in which a judge's prior role as a supervisory prosecutor in a death-penalty case forced his disqualification later in the case. While Wright said Nevada left it unclear how this situation related to him, he said his role in NARUC's request to intervene in the NRC license review is not analogous.
In its response to his decision, the Nevada Agency on Nuclear Projects gave no indication it would file an appeal. But it left no doubt it is ready to take legal action should the license adjudication resume with Wright's participation.
"If the licensing proceeding should ever resume and proceed to completion, judicial remedies will be available to Nevada to reverse every Commission decision on which Commissioner Wright participated," the agency said. It did not say what those judicial remedies might involve.