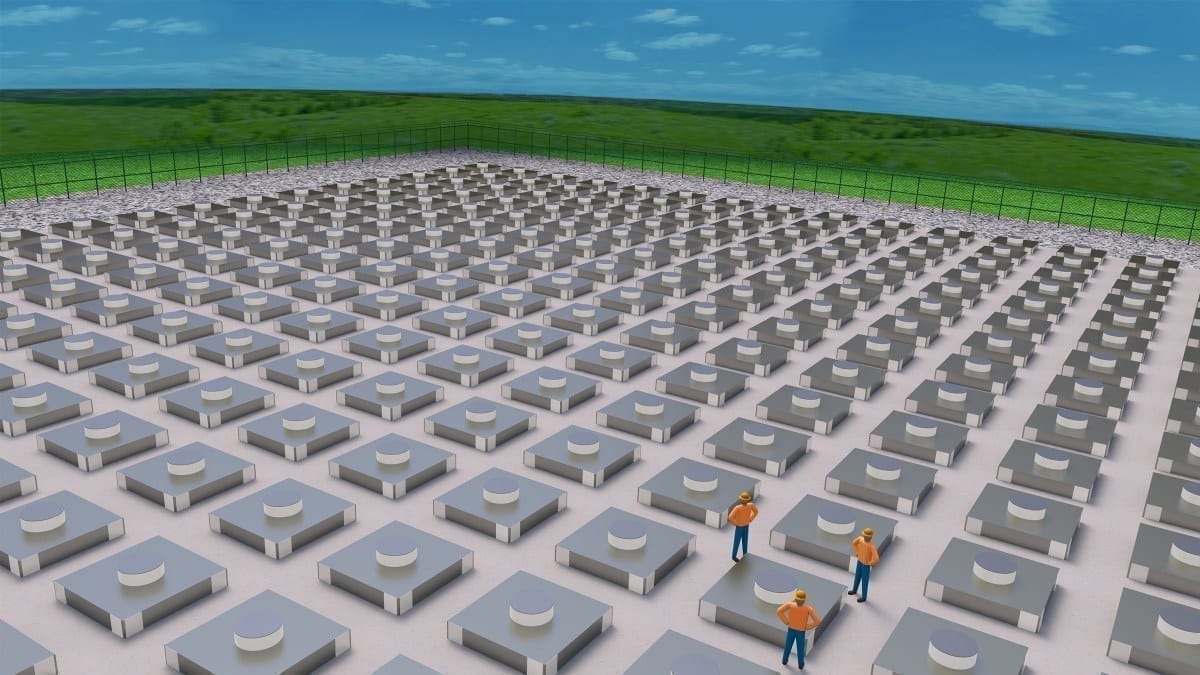 The Nuclear Regulatory Commission this week licensed Holtec International to operate a consolidated interim storage facility for spent nuclear fuel in New Mexico, where politicians vowed to block the project.
Holtec's is one of two proposed consolidated interim storage facilities the NRC has licensed over the last two years to receive spent fuel. If built, these facilities would be the only destinations available for fuel now stored onsite at the nuclear power plants that generated it.
With its new NRC license, Jupiter, Fla.-based Holtec's proposed HI-STORE facility could take on up to 8,680 metric tons of uranium, the equivalent of 500 canisters, "in the form of undamaged fuel assemblies, damaged fuel assemblies, and fuel debris," according to the materials license and supporting documents the NRC published Tuesday.
Holtec has yet to decide when it will break ground on the HI-STORE facility, which the company wants to build near Eddy and Lea counties in New Mexico's southeastern region, which is already home to an oil and gas industry and the Department of Energy's Waste Isolation Pilot Plant: a federal repository for plutonium-contaminated radioactive waste that is critical, among other things, to the cleanup of radioactive waste at the Los Alamos National Laboratory in northern New Mexico.
Holtec also would not say this week when the HI-STORE facility would be ready to receive its first shipment of spent nuclear fuel.
"What a path forward and timeline looks like is still to be determined," a Holtec spokesperson wrote Tuesday in an email to RadWaste Monitor. "Our invitation to join the project over 8 years ago and the strong local support in the counties of Eddy and Lea solidify our belief that the project is still viable."
New Mexico Gov. Michelle Lujan Grisham (D) thinks not. On Tuesday, she vowed that the project would never go forward.
"[W]e are evaluating available legal recourse and will take any action necessary to make sure that ground is never broken on this 'interim' facility in New Mexico," Lujan Grisham wrote in a joint statement this week with state Attorney General Raúl Torrez (D).
New Mexico earlier this year outlawed storage of spent nuclear fuel anywhere in the Land of Enchantment. Holtec has said the state law is preempted by federal law but had not challenged the state ban in court as of this week.
Right now, Holtec's proposed HI-STORE facility can accept 500-canisters over 40-years, but the company has said it could seek license amendments from NRC to increase those limits. Holtec says HI-STORE could take on as many as 10,000 canisters.
Lujan Grisham and other heavy-hitters in New Mexico politics have seized on these statements to claim that HI-STORE would not be an interim stop for nuclear waste but a permanent home.
"Today the Nuclear Regulatory Commission used 'interim' standards to approve indefinite nuclear storage in New Mexico. No matter how many times NRC and Holtec use the word 'interim,' it doesn't make it so." Sen. Martin Heinrich (D-N.M.) wrote in a joint statement with four other U.S. lawmakers, "Until there is a permanent repository for our nation's spent nuclear fuel, no regulatory commission should be using 'interim' standards to approve 'indefinite' storage. New Mexicans didn't sign up for this."
Holtec is the second company to get an NRC license for consolidated interim storage in the last two years. In September 2021, Interim Storage Partners, a joint venture of Waste Control Specialists and Orano USA, got a license to build a spent fuel depot in west Texas.
Like New Mexico, Texas has banned storage of spent fuel within its borders.
Like Holtec, Interim Storage Partners had not challenged the legality of Texas' spent-fuel ban as of this week.