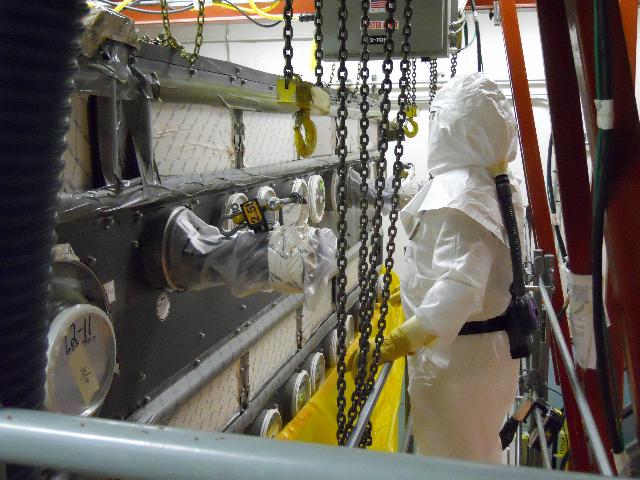 While only a handful of COVID-19 cases have been confirmed to date across the Energy Department nuclear complex, most nuclear remediation sites are dramatically scaling back operations as the pandemic expands.
That finding is based on conversations with sources who work with DOE's Office of Environmental Management, public websites and social media posts, and stay-at-home advisories issued by at least 22 of the 50 states.
The Energy Department said Friday afternoon only the Moab Uranium Mill Tailings Remedial Action (UMTRA) Project in Utah, the Oak Ridge Site in Tennessee, and the Waste Isolation Pilot Plant in New Mexico are in normal operations. The Savannah River Site in South Carolina is in "limited" operation, and all others are doing only the most essential chores.
The United States as of Friday had reported 85,000 cases of the novel coronavirus, the most confirmed by any nation, and nearly 1,300 deaths.
The House of Representatives on Friday approved a landmark $2 trillion relief package passed by the Senate late Wednesday. President Donald Trump is expected to quickly sign the measure.
Meanwhile, staffing is being temporarily reduced to an "absolute minimum" at the Hanford Site in Washington state, DOE Manager Brian Vance, said in a message posted online Tuesday. Roughly 9,000 federal and contractor personnel work at the former plutonium production complex, which is now home to DOE's largest and most expensive cleanup program. The move was initiated Sunday after Washington Gov. Jay Inslee's "Stay Home, Stay Healthy" proclamation.
While they have not gone into detail regarding what work has been suspended, Hanford officials have said generally they are doing what is necessary to protect the public and the environment.
Vance said the Energy Department is seeking a means for most employees of Hanford contractors who cannot telework to continue receiving paychecks while site access is limited. The Energy Department has not yet said how many workers fall into that category at Hanford.
Hanford and other DOE locations that are restricting access are currently paying non-teleworking employees just as they would if access was restricted by severe weather. The Hanford provider of occupational health services, HPM Corp., is also operating at reduced staffing and urged clients to call the facility before coming in for any type of visit.
To date, no Hanford workers have been reported testing positive for COVID-19, a DOE spokesman said.
That is not the case at the Savannah River Site in South Carolina, which on Monday shifted to "minimum mission-critical activities" after learning of one confirmed case. No more cases have been confirmed as of Friday.
"During this period, activities that support our missions will be limited to those necessary to ensure the safety of the public, our workers, the environment, and critical national security missions," SRS management said in a press release. "The transition to minimum mission-critical activities is being specifically tailored to each facility at SRS."
The Savannah River Site has not issued a rundown of what tasks are being suspended temporarily.
The site is monitoring 130 employees who are currently in self-quarantine. Over half of them, 74, show no symptoms but might have been exposed to the virus. The rest have exhibited symptoms, such as a bad cough or fever, a DOE spokesperson said by email Friday.
Elsewhere, both the Los Alamos National Laboratory in New Mexico and Lawrence Livermore National Laboratory in California have entered minimum safe operations due to the COVID-19 pandemic. There are two self-reported cases at Livermore, while the Sandia National Laboratories in New Mexico confirmed Thursday it has one case in its workforce.
This major curtailment of operations at Los Alamos applied to both site operator Triad National Security and legacy cleanup contractor Newport News Nuclear BWXT Los Alamos, a source said by email Friday.
The same source indicated all but the most basic operations have been suspended at DOE's Portsmouth Site in Ohio and the Paducah Site in Kentucky. Both are home to environmental remediation of former uranium enrichment operations. An official at Portsmouth declined to comment on the status of operations.
Meanwhile Pike County, Ohio, where Portsmouth is located, has its first confirmed case of COVID-19. A press release from the Pike County General Health District did not say where the person works.
Also, the Idaho National Laboratory said via Twitter on Thursday it is moving to a "minimum-safety-plus" status and will employ maximum telework.
Approximately 1,000 employees will continue to report to work at INL facilities. Simultaneously, about 3,900 will work remotely, the lab said in a Thursday statement. Essential staff returning from out-of-state travel are asked to self-quarantine for 14 days, according to the release. So far, no Idaho National Laboratory employee has tested positive for coronavirus.
The West Valley Demonstration Project in New York state has also dramatically reduced its operations during the pandemic.
CNN reported Thursday night such proclamations are becoming more common during this national health emergency, and some the states affected include Washington, California, New York, Ohio, New Mexico, and Idaho. A representative with a major government contractor serving DOE and the semiautonomous National Nuclear Security Administration (NNSA) said his company is trying to decipher which of these actions are mandates as opposed to recommendations – and how they are defining essential businesses.
Relief Bill Passes
Congress' third coronavirus relief packaage should help blunt the financial repercussions of the soaring unemployment and depressed stock market that have accompanied the outbreak, House Speaker Nancy Pelosi (D-Calif.) said during a Thursday press conference, a transcript of which was posted on her website.
"The most important part of the bill was making it clear that the people that work at the [federal] sites and are furloughed will be paid – irregardless of whether they are federal employees, contractor employees or subcontractor employees," said Seth Kirshenberg, executive director of the Energy Communities Alliance (ECA), in a Thursday email.
A wide coalition of organizations had lobbied on behalf of that compensation language, including ECA, a group of municipal governments near Energy Department sites, and the Energy Facility Contractors Group (EFCOG) that represents vendors in the weapons complex.
The package includes $28 million to support telecommuting for DOE employees, as well as $3.3 million for personnel at the Nuclear Regulatory Commission.
The package also has provisions for federal agencies to offer employees of their contractors and subcontractors paid leave up to an average of 40 hours per week to keep workforces "in a ready state" through Sept. 30. This is reserved for vendor employees who cannot do their work because a federally owned or leased site has closed down or restricted because of the novel coronavirus.
These are individuals whose occupation range from equipment operators and mechanics to employees who work within classified settings.
Aside from the legislation, DOE and NNSA recently increased the amount government contracting officers can pay on "micro-purchases" and "simplified' acquisitions in order to cope with effects of the pandemic. The updates are outlined in an emergency purchasing flexibility document posted by DOE.
The federal procurement officers can now make a micro-purchase inside the United States for up to $20,000 to help address expenses related to COVID-19. Such a purchase from a vendor outside the country can be made for up to $30,000.
The current limit for micro-purchases is $10,000.
The Tuesday announcement says the simple acquisition threshold, under the Federal Acquisition Regulation, will be set at $750,000 for purchases or contracts made in the United States. The current limit is $250,000. The cap for international expenditures is set at $1.5 million under the emergency action, set to expire July 1.