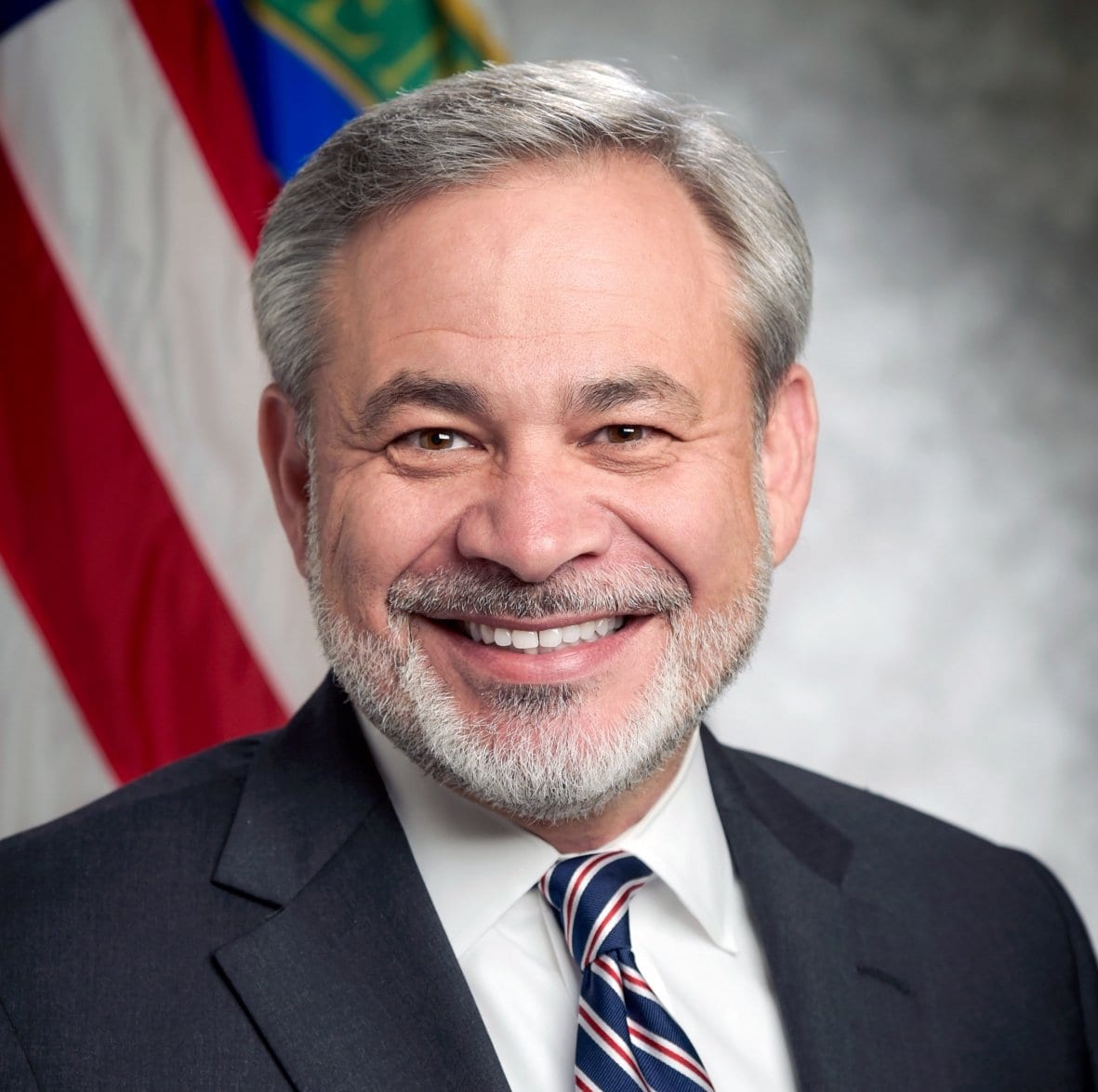 President Donald Trump on Thursday officially nominated Deputy Secretary of Energy Dan Brouillette to replace Rick Perry, who will resign as secretary of energy on Dec. 1.
Brouillette, a former auto-insurance lobbyist with some turn-of-the-millennium Washington experience on his rapidly expanding resume, must be confirmed by the Senate Energy and Natural Resources Committee before he can be sworn in as Trump's second secretary of energy.
The committee has scheduled a nomination hearing for 10:30 a.m. Thursday, Nov. 14.
"I am honored to be nominated by President Trump to serve as the U.S. Secretary of Energy, and grateful to Secretary Perry for asking me to join him at the Department of Energy over two years ago," Brouillette said in a prepared statement Thursday. "If confirmed, I will further Secretary Perry's legacy of promoting energy independence, innovation, and security for the American people."
The Senate confirmed Brouillette as deputy secretary with a strong bipartisan vote in August 2017. Republicans still have a majority in the upper chamber and need only a simple majority to get Brouillette out of the committee and the Senate, and into the big office in the Forrestal Building.
Energy and Natural Resources Chair Lisa Murkowski (R-Alaska) has signaled her support for Brouillette.
On the other hand, at least two Democrats have already staked out some conditions for Brouillette's confirmation. Sen. Jacky Rosen (D-Nev.) said Brouillette must acknowledge Nevada's opposition to DOE plans for a nuclear waste repository in the state and also affirm the department's commitment to remove 500 kilograms of weapon-usable plutonium from the Nevada National Security Site by 2026.
Sen. Martin Heinrich (D-N.M.), a member of the Energy and Natural Resources Committee, said late last month he wanted to chat with Brouillette about Perry's refusal to comply with a subpoena from the House Intelligence Committee, which is investigating impeachment of Trump over the president's alleged attempts to condition congressionally approved military aid to Ukraine on political favors.
Perry, the former governor of Texas, served as energy secretary from March 2017. He announced his resignation on Oct. 17, saying he would return to Texas but not discussing a specific reason for his departure. Perry in recent weeks has been increasingly tied into the House's Ukraine-focused impeachment investigation.
Before joining the DOE, Brouillette spent more than a decade leading Washington operations for the United Services Automobile Association of San Antonio, Texas. Prior to that, he was a vice president at Ford Motor Co. from 2004 to 2006. From 2003 to 2004, he was staff director for the House Energy and Commerce Committee, which sets policy for most branches of the Energy Department, but not the semiautonomous National Nuclear Security Administration. From 2001 to 2003, Brouillette was assistant secretary for congressional and intergovernmental affairs in the George W. Bush administration's Department of Energy, serving as the agency's principal liaison to other parts of the executive branch and Congress.
Brouillette has pushed contracting reform at DOE, including greater use of indefinite-delivery/indefinite-quantity (IDIQ) task orders. It's an approach that supports the Office of Environmental Management end-state approach, which is designed to put more emphasis on completion of defined cleanup tasks by vendors. The IDIQ approach is intended to offer vendors higher fees in exchange for granting DOE greater flexibility to modify the scope of work to accommodate changing conditions.
Under the leadership of Perry and Brouillette, the Energy Department requested $6.6 billion in fiscal 2019 funding for the Office of Environmental Management, a little more than $180 million above the 2018 budget but less than the $7.2 billion eventually approved by Congress. That was followed by request for about $6.5 billion for fiscal 2020, which began on Oct. 1. The House has passed a bill keeping funding at the $7.2 billion level, while the Senate Appropriations Committee has passed out a plan for nearly $7.5 billion that is still waiting on a floor vote. In the interim, Congress passed a continuing resolution to keep the government open through Nov. 21.
"Brouillette's management experience and understanding of energy issues is unparalleled," the United States Energy Association, a Washington, D.C.-based trade group for the U.S. energy industry, said in a statement Friday lauding the nomination. "He gets it, from the granular details, to the long view of energy's impact on national security, the value of innovation and global partnerships."
Mark Menezes, the undersecretary for energy, is the next DOE official in the agency's order of succession after Brouillette, setting him up to step in as acting deputy.
If Trump wants a permanent deputy secretary for the remainder of his first term, and possibly the beginning of a second, he would have to nominate one for Senate approval. One potential candidate for the No. 2 post at the agency, National Nuclear Security Administration Administrator Lisa Gordon-Hagerty, would not say this week whether she would take the job if offered.
"I am honored to serve in the position that I have and I am honored to serve this administration and honored to serve the American people," Gordon-Hagerty said. "I am perfectly happy in the position that I'm in now."