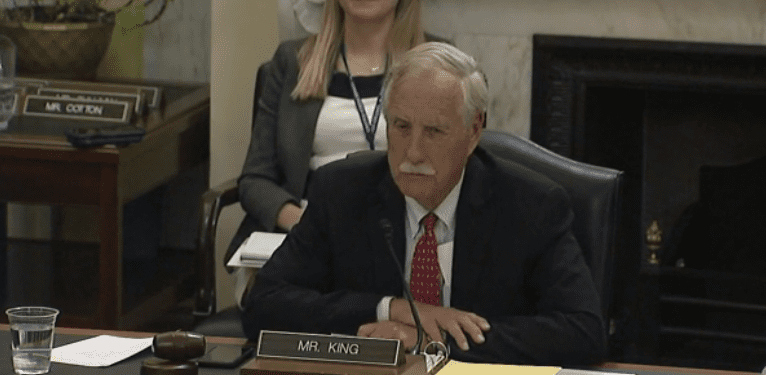 The head of the Senate Armed Services strategic forces subcommittee is dissatisfied with current legal checks on the President's authority to launch nuclear weapons, he said in a hearing Wednesday, during which he otherwise offered no other indication that he was eager to disrupt current nuclear weapons policy.
The President's sole authority to launch U.S. nuclear weapons is a question "that at least bears discussion," Sen. Angus King (I-Maine), chair of the subcommittee, said during the hearing. King billed the hearing as a chance for the public to hear "diverse set of viewpoints" about nuclear deterrence.
As U.S. law stands today, the only thing that could prevent someone other than the President from stopping an order to launch nuclear weapons is if the president's order to launch nuclear weapons is illegal, King said.
"That doesn't satisfy me," said King, who wondered whether it might be better to designate "some group of people," including the President, to decide whether the U.S. should ever launch nuclear weapons.
"We're talking about the fate of civilization," King said during the evening hearing.
On Wednesday, weeks before the start of the Joie Biden administration's nuclear posture review, weeks before the full Armed Services Committee will mark up the fiscal year 2022 National Defense Authorization Act and weeks after the release of the administration's first budget request, which mostly stays the course on the ongoing 30-year nuclear-modernization program, only six of the 12 members of the strategic forces subcommittee showed up for Wednesday evening's hearing.
Among those that did, some professed to be unmoved by witness arguments for minimal deterrence, such as eliminating the intercontinental ballistic missile (ICBM) fleet or halting the National Nuclear Security Administration's (NNSA) program to built two new factories for plutonium pits.
"I find the argument and notion [of getting rid of ICBMs] almost irrationally irresponsible, but give it your best shot," said Sen. Dan Sullivan (R-Alaska) told Tom Collina, director of the disarmament advocating Plowshares Fund and one of four witnesses at the hearing. "It's highly unlikely you're going to convince me."
Collina did give it a shot, repeating oft-used arguments that nuclear-tipped ICBMs are vulnerable to surprise attacks, making them a reliable way to strike an equally armed adversary first, but unreliable for convincing such an adversary not to strike the U.S.
There was some bipartisan resistance to Collina's argument from Sen. Mark Kelly (D-Ariz.), a first-termer who, before his astronaut days, was a naval aviator.
"I, like Sen. Sullivan, am unconvinced," Kelly said.
Ex-NNSA Head Unsure About Biden Budget
Among the four witnesses at the hearing was Lisa Gordon-Hagerty, immediate past administrator of the NNSA. Sen. Mike Rounds (R-S.D.) invited Gordon-Hagerty's commentary on the Joe Biden administration's roughly $20 billion budget request for the civilian nuclear weapons agency, which includes 12% less funding for NNSA weapons programs than the agency under Gordon-Hagerty predicted it would need for the fiscal year starting Oct. 1
"The [NNSA] modernization programs need to be supported fully and I'm not quite sure that the budget that was submitted for FY22 does that," Gordon-Hagerty said. The ex-NNSA chief — her replacement, Jill Hruby, awaited a confirmation vote on the Senate floor at deadline — said the four-year spending plan she helped put together in advance of the fiscal year 2021 budget debates assumed NNSA spending overall would grow 2.1% year-over-year from the 2021 appropriation of just under $20 billion, "barring any catastrophic issues."
Only months after Gordon-Hagerty's forced exit from the NNSA, the agency revealed that one of the two planned factories for plutonium pits, fissile cores for nuclear-weapon primary stages, would be delayed by up to five years and cost $11 billion, or almost two-and-a-half times more than an earlier agency estimate.
The expected delay for the pit plant at the Savannah River Site in Aiken, S.C., means its sister plant at the Los Alamos National Laboratory in New Mexico "will be required to surge in order to achieve DoD requirements," Gordon-Hagerty wrote in her written testimony for Wednesday's hearing. 
NNSA has not said when the Los Alamos plant will be capable of increasing its expected capacity from the anticipated 30 pits annually by 2026, but according to testimony from the agency's acting administrator, Charles Verdon, it won't be soon enough to meet a legal requirement to produce 80 pits a year by 2030. 
On Wednesday, Gordon-Hagerty cautioned that the Los Alamos pit plant might not get off to as smooth a start as the NNSA hoped, "not because of technical expertise but because historically, pauses and work-stoppages occurred on a routine basis, and we should anticipate that in the future."