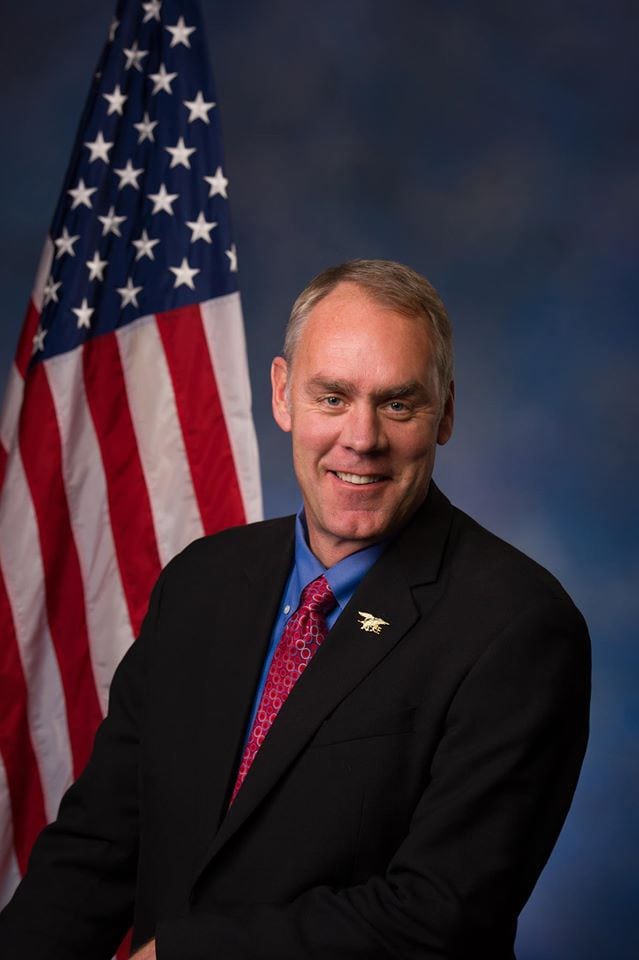 In an unexpected move, President-elect Donald Trump is now expected to nominate freshman Rep. Ryan Zinke (R-Mont.) to lead the Interior Department. This came after heavy reporting late last week that Rep. Cathy McMorris Rodgers (R-Wash.) would be the pick. Trump's transition team has not yet officially announced Zinke's appointment.
The congressman would be tasked with overturning environmental restrictions on energy production on U.S. government lands, including the current moratorium on coal leasing on federal property.
The Interior Department announced in mid-January it would issue no new coal leases on federal lands while completing a programmatic environmental impact statement of the U.S. coal leasing program. The review is intended to determine if the program is properly structured to provide a fair return to taxpayers, reflects its impacts on the environment, and will continue to help meet the nation's energy needs. The agency last conducted a PEIS for the federal coal program in 1983-1984. That review process also included a pause on coal leasing, as did the previous four. Currently, approximately 41 percent of the nation's annual coal production comes from federal land.
During his campaign, Trump pledged to open up federal lands for continued mining and drilling.
Zinke is not particularly well-known in D.C. He is best known for being the first Navy SEAL elected to the House.
Zinke's voting record on environmental issues is less than stellar, according to the League of Conservation Voters. The Congressmen scores only 3 percent on the LCV scorecard. Other than voting against an amendment to the 2016 Energy and Water Development and Related Agencies Appropriations Act that would eliminate all funding to the Department of Energy's Office of Energy Efficiency and Renewable Energy, Zinke has voted "anti-environment" every chance he's had according to the LCV.
He supports domestic fuel production, according to his website. "Rep. Zinke believes we need to use every tool available in our energy toolbox to [achieve] American energy independence and that includes building the Keystone XL Pipeline, developing clean coal, and encouraging renewable energy research and development because it is critical that Montana families and businesses have access to reliable and affordable energy."
Current Secretary of the Interior Sally Jewell had a few words of advice to her predecessor, during a keynote presentation at the American Geophysical Union's fall meeting in San Francisco Wednesday. "When you sit in a chair like mine, you come in with a set of ideas and assumptions and there's a way of sitting in these chairs that will dump a bucket of ice water quickly on any ideology you walk in with," she said. "That is when you meet the brass tacks of trying to oversee 20 percent of our nation's land and the outer continental shelf and work with tribal communities that have been impacted by climate change," she said.
Jewell also addressed the growing fear of federal workers that the incoming administration will not prioritize scientific fact. Trump and many members of his cabinet and transition team are outspoken climate change deniers. "I am optimistic that my successor and successors to all the jobs in the federal government will quickly realize how valuable science is," she said, going to state that "I think it will be very difficult for them to ignore facts or to continue to perpetuate bad data."
Zinke has also been vocal about the importance of the nation's public lands. Roughly 29 percent of Montana is comprised of public lands, according to the Montana Wilderness Association. "In Montana, our land IS our way of life. Our wealth of natural resources creates jobs, supports families, and promotes recreation. It is of utmost importance that we preserve the public's access to these lands," his website says.
GOP support of transferring federal lands to the states in its 2016 platform led Zinke to resign as a delegate to the Republican nominating convention in July. "Quite frankly, most Republicans don't agree with it and most Montanans don't agree with it," Zinke said in a July 15 article in the Billings Gazette. "What we do agree on is better management."
In June Zinke voted against a bill in a House Natural Resources Committee markup that would have allowed up to 2 million acres of federal land to be transferred to state ownership. "I'm starting to wonder how many times I have to tell these guys in leadership I'm not going to allow Montana's public lands to be sold or given away," Zinke said in a release.