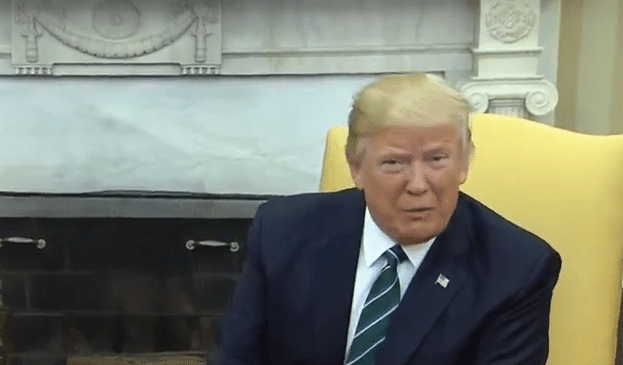 Nearly a week after President Donald Trump suggested his administration could rethink its efforts to license a nuclear waste repository under Yucca Mountain in Nevada, there were no details on what such an approach might look like.
Any new plan would run counter to the Trump White House's efforts in its first two budget requests to resume funding the licensing proceeding that has been largely frozen for the better part of a decade.
While in Nevada on Saturday, Trump told Reno television station KRNV regarding Yucca Mountain: "I think you should do things where people want them to happen, so I would be very inclined to be against it. We will be looking at it very seriously over the next few weeks, and I agree with the people of Nevada."
Nevada state leaders and lawmakers have consistently opposed federal efforts dating to 1987 to bury tens of thousands of tons of used fuel from commercial nuclear power reactors and high-level radioactive waste in rural Nye County, about 100 miles northwest of Las Vegas.
The White House this week did not respond to repeated requests for detail on what the upcoming re-evaluation would involve. The Department of Energy, the license applicant, also did not respond to requests for information.
The Nuclear Regulatory Commission, which will rule on approval or disapproval of the DOE license, said it had no comment on Trump's statement.
The Nuclear Energy Institute, the trade group for the U.S. nuclear industry, said it had no insight Trump's comments.
Members of Nevada's congressional delegation, which has uniformly opposed the underground disposal facility, urged Trump to follow through with his thought and find somewhere else to put the waste.
"I hope this is a rare moment when Nevadans can take President Trump at his word. But we know that all of President Trump's budgets have included hundreds of millions of dollars in funding to reopen Yucca Mountain – and turn Nevadans' backyard into a nuclear waste dump," Senator Catherine Cortez Masto (D-Nev.) tweeted on Tuesday.
Cortez Masto and Rep. Jacky Rosen (D-Nev.) sent a letter to the White House on Tuesday calling on Trump not to seek funding for the program in the next federal budget cycle. Cortez Masto said Thursday she sent letters with the same message to Energy Secretary Rick Perry and White House Office of Management and Budget Director Mick Mulvaney.
Rosen is campaigning to unseat Sen. Dean Heller (R-Nev.), who has made vehement opposition to Yucca Mountain a central component of his re-election drive. Heller campaigned with Trump in Nevada over the weekend and had as of Friday not issued any official statement regarding the president's comments.
None of the Nevada lawmakers responded to requests for any insight they might have on a new White House approach to the nation's nuclear waste impasse.
Congress in 1982 passed legislation directing the Department of Energy to site and build a permanent nuclear waste repository, and five years later mandated it be located at Yucca Mountain. The Energy Department did not submit its license application to the NRC until 2008, during the George W. Bush administration. The Obama administration defunded the proceeding just two years later.
Following a report from a blue-ribbon commission on nuclear waste management, the Obama DOE initiated a "consent-based" approach under which disposal of nuclear waste would advance only with approval of various stakeholders for a given location. Upon taking office in January 2017, Trump reversed course again back to Yucca Mountain.
For fiscal 2018, DOE and the NRC sought about $150 million for nuclear waste disposal and storage operations, nearly all of it for resuming the Yucca Mountain licensing proceeding. For fiscal 2019, the administration upped the ante to $170 million. Neither request survived the congressional appropriations process.
The House backed both proposals – and added another $100 million to the latest request for Yucca Mountain. The Senate, which in recent years has favored interim storage measures over Yucca Mountain in hopes of expediting removal of waste from the generation sites, opposed both and won the day each time when it came to crafting the final appropriations package covering DOE and the NRC. Trump signed the bill into law in September.
Energy Department officials so far have refused to say whether they will seek funding for licensing again in their fiscal 2020 budget proposal. In appearances before congressional committees, Energy Secretary Rick Perry has emphasized following the law on nuclear waste disposal – which, for now, means Yucca Mountain.
"The fact is when people look at the repository site in the Nevada desert, and when they hear the world-class scientific research supporting its safety, most come away realizing it is the best location available for a national repository," Jordan Haverly, a spokesman for Rep John Shimkus (R-Ill.), said by email Wednesday. "That's why Congressman Shimkus has led bipartisan delegations of his colleagues to see the site for themselves, and its why opponents will say and do anything to silence the scientific debate through the NRC's licensing process."
Shimkus has been the House's lead proponent for Yucca Mountain, in 2017 introducing legislation that would strengthen the federal government's capacity to build the repository. The lower chamber overwhelmingly approved the bill in May, but the Senate has not yet taken it up and there is just over two months left in the current Congress.
A senior official in DOE's Office of Nuclear Energy, which would lead any resumed licensing effort, said in September the administration was not likely to return to the consent-based approach.
"Consent-based siting isn't mentioned since the election in 2016, but going back to the framework of the Nuclear Waste Policy Act is. That's the administration's point of view, and that's what the Department of Energy is involved with," Bill Boyle, director of the Office of Used Nuclear Fuel Disposition Research and Development, Fuel Cycle Technologies, said at the ExchangeMonitor's RadWaste Summit in Henderson, Nev.