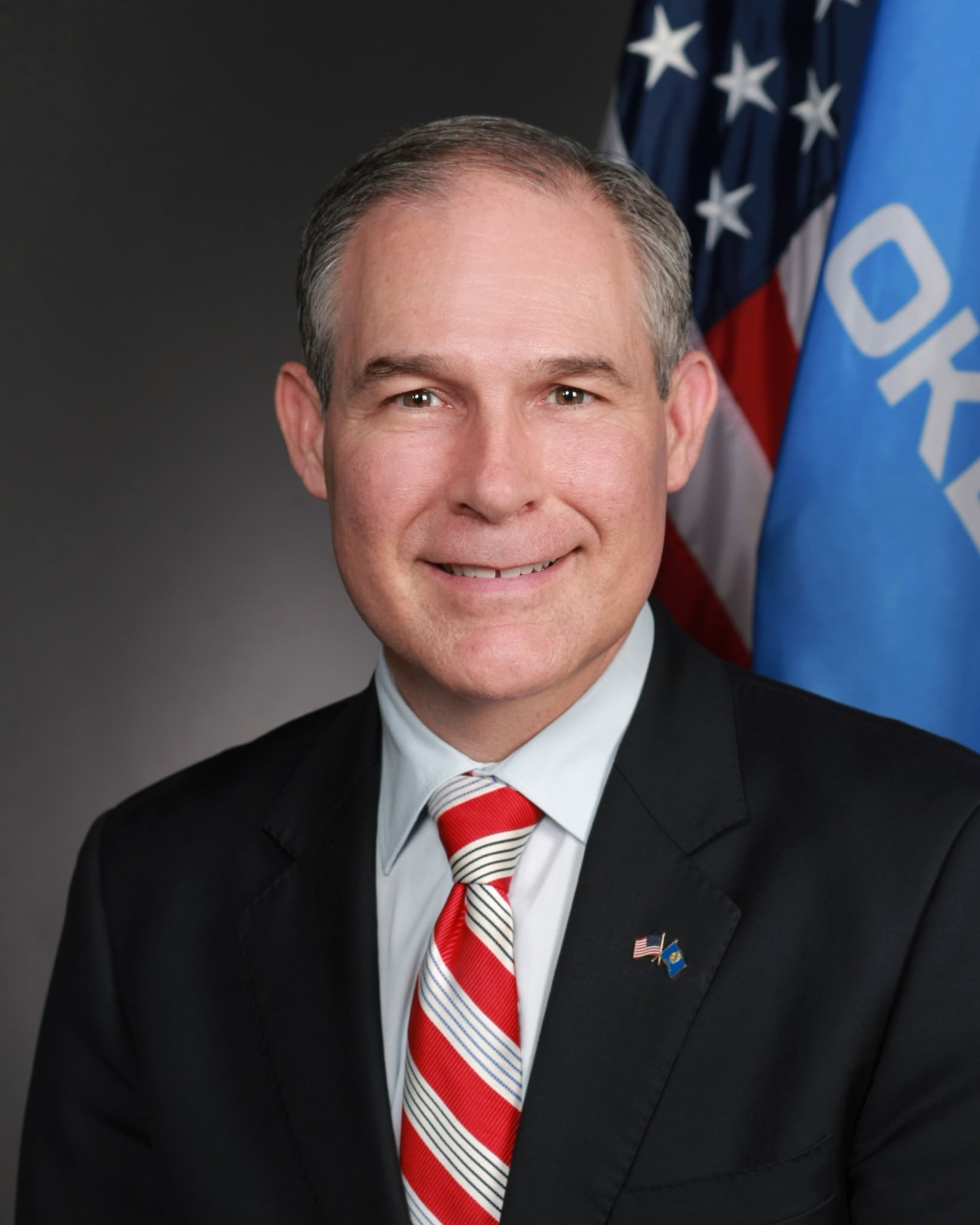 President-elect Donald Trump's pick to lead the Environmental Protection Agency has had a robust relationship with the organization, in court at least.
Scott Pruitt, Oklahoma's attorney general, has sued the EPA a number of times attempting to halt regulations He is currently representing Oklahoma in a federal lawsuit in which 27 states and a number of allied groups are seeking to eliminate the EPA's Clean Power Plan, carbon emission standards for existing coal-fired power plants.
The Clean Power Plan requires states to develop action plans to reach federally set emissions reduction targets.
Pruitt has been fighting the rule tooth and nail since before it was even finalized. In July 2015, just a month after the Clean Power Plan was proposed, Pruitt filed a lawsuit calling for injunctive relief on the basis that the rule commandeers states' electric systems. The suit was thrown out by the U.S. District Court for the Northern District of Oklahoma because the Clean Air Act requires that a rule be finalized and published in the Federal Register before it can be challenged in court.
Once the rule was finalized and published, Pruitt was one of the first to file suit. Oral arguments in the combines lawsuit were heard by a 10-judge panel of the U.S. Court of Appeals for the District of Columbia Circuit in late September, and a judgment is expected later this year or in early 2017.
"For too long, the Environmental Protection Agency has spent taxpayer dollars on an out-of-control anti-energy agenda that has destroyed millions of jobs, while also undermining our incredible farmers and many other businesses and industries at every turn," Trump said in a Thursday morning statement formally announcing Pruitt's selection. "As my EPA Administrator, Scott Pruitt, the highly respected Attorney General from the state of Oklahoma, will reverse this trend and restore the EPA's essential mission of keeping our air and our water clean and safe."
Beyond his opposition to EPA actions, Pruitt is also a climate change skeptic "Scientists continue to disagree about the degree and extent of global warming and its connection to the actions of mankind," he wrote in a May editorial in the National Review.
Contrary to what Pruitt has said, there is scientific consensus on the existence of climate change. "Multiple studies published in peer-reviewed scientific journals show that 97 percent or more of actively publishing climate scientists agree: Climate-warming trends over the past century are extremely likely due to human activities," the National Aeronautics and Space Administration has pointed out.
Throughout his campaign, Trump pledged to overturn several of the Obama administration's climate-related initiatives, including the Clean Power Plan. Recently, however, he suggested he would keep an open mind on climate; Trump even met earlier this week with climate activist and former Vice President Al Gore, giving environmentalists a glimmer of hope for the new administration.
Pruitt's appointment, however, seems to have quickly snuffed out that glimmer. "Pruitt's appointment reveals Trump's climate flip-flopping and meetings with Gore as nothing more than a smokescreen. This is an administration that is dead set on putting polluters ahead of people every single time. The EPA should be limiting carbon pollution and putting the brakes on reckless oil and gas development — not defending Big Oil and putting the planet's future at risk," May Boeve, executive director of 350.org, said in a release.
That message was echoed by many, many environmental groups following Wednesday's announcement, as well as Democrats in the Senate.
Pruitt's appointment has ruffled the feathers of several lawmakers, including Sen. Bernie Sanders (I-Vt.) who pledged to try to stop the appointment. "Mr. Pruitt's record is not only that of being a climate change denier, but also someone who has worked closely with the fossil fuel industry to make this country more dependent, not less, on fossil fuels. The American people must demand leaders who are willing to transform our energy system away from fossil fuels. I will vigorously oppose this nomination," Sanders said in release.
Sen Sheldon Whitehouse (D-R.I.) made a similar statement. "I expect the American people will be shocked that President-elect Trump has chosen someone with such disdain for their health as they learn more about Pruitt during his confirmation hearings.  Stay tuned," he said.
Opposition from Senate Democrats won't be enough to stop Pruitt from being confirmed. The AG needs 51 votes for confirmation, meaning that Democrats would need to turn a few Republicans.
The Sierra Club stated that the appointment "is like putting an arsonist in charge of fighting fires." Friends of the Earth said that appointing Pruitt "is putting all Americans at risk." The Natural Resources Defense Council suggested that "If confirmed, Pruitt seems destined for the environmental hall of shame," and the Climate Reality Project said that "Pruitt's constant attacks on the Clean Power Plan and numerous squabbles with the EPA have proven that he is willing to put the interests of the fossil fuel industry above all else, even public health."
Of course, the AG has fans as well. "We are pleased with President-elect Donald Trump's nomination of Oklahoma Attorney General Scott Pruitt for EPA Administrator. General Pruitt will be a strong advocate for sensible policies that are good for our environment, as well as mindful of the need for affordable and reliable electricity," Paul Bailey, senior vice president for federal affairs and policy and the American Coalition for Clean Coal Electricity, said in a prepared statement.
Scott Segal, a partner at law and lobbying firm Bracewell, also praised Pruitt, noting that he would not be the first EPA administrator to have previously sued the agency. "Some have suggested that Pruitt hands might be tied because he participated in litigation against the Agency. This is a silly position. When you add up all the states that have participated in litigation on the Clean Power Plan alone it amounts to almost the entire United States. Further, Gina McCarthy herself sued the EPA as a Massachusetts state official only to eventually lead the Agency herself," Segal said in a prepared statement.