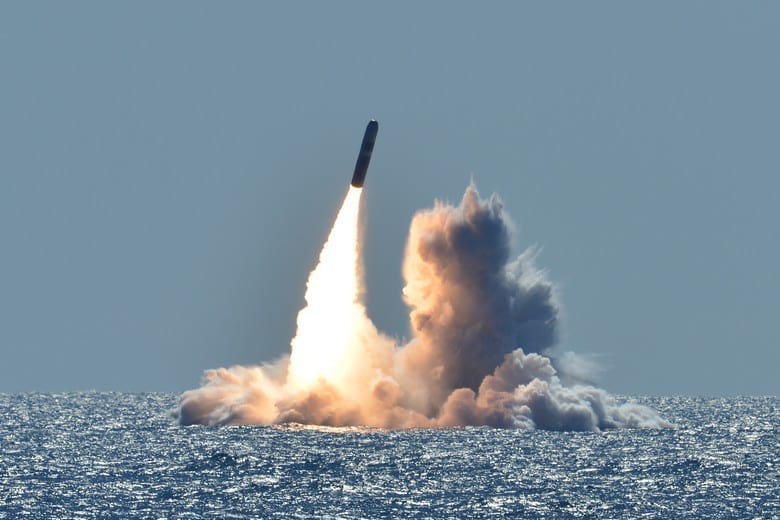 The U.S. military lags behind both Russia and China in building and fielding low-yield nuclear weapons and can address that gap by diversifying the military's nuclear options, the head of U.S. Strategic Command told Congress on Thursday.
Air Force Gen. Anthony Cotton, in charge of U.S. nuclear forces since December, said he launched a review of the nation's nuclear capabilities as soon as he took the job. 
That review highlighted a "strategic gap or challenge" in the availability of low-yield, non-ballistic nuclear weapons that do not generate a radar signature, he told the Senate Armed Services on March 9.
"I did a deep dive as soon as I took command, and during that deep dive and review of our capabilities, I in fact, am in agreement that there is a strategic gap or challenge when it comes to that regime," Cotton said. "I fully support … pursuing the opportunities to look at low-yield, non-ballistic, non-generating effects."
A nuclear sea-launched cruise missile, or SLCM-N, would diversify the military's nuclear options when faced with a nuclear threat, Cotton said during an exchange with Sen. Joni Ernst (R-Iowa). Deploying such a weapon would also "deter our adversaries' perceived advantage of limited use," he said. 
The Biden Administration has called for canceling the missile, which Cotton's predecessor at STRATCOM, Navy Adm. Charles Richard, favored fielding. Cotton generalized the capability gap in non-treaty accountable lower-yield nuclear weapons, of which Russia is thought to have about 2,000. 
Cotton said the sort of weapons he was talking about are not governed by the New START treaty between the U.S. and Russia. Russia says it will continue to adhere to New START's limits on deployed strategic weapons — those that are longer and longer-reaching than battlefield nukes — but that it would no longer open its nuclear facilities to U.S. inspections as the treaty requires. 
China and Russia are building and fielding low-yield tactical nukes that could be used without reaching a threshold that could trigger nuclear war, Sen. Tom Cotton (R-Ark.) said during the hearing. Sen. Cotton described just such a scenario while questioning STRATCOM's Cotton, saying that lower-yield nuclear weapons could be used to, say, remove an artillery battalion from the battlefield. 
An adversary armed only with large-yield "city killer" nuclear weapons might not respond for fear of triggering nuclear war, Sen Cotton said. As long as the U.S. does not have credible lower-yield nuclear weapons of its own, its adversaries could be emboldened to detonate their own smaller nuclear weapons without fear of nuclear reprisal, Sen. Cotton said. Gen. Cotton agreed. 
At present, there are several low-yield nuclear weapons either fielded or planned for the U.S. arsenal. The incoming AGM-181 Long-Range Standoff weapon (LRSO) and its W80-4 warhead, to be provided by the Lawrence Livermore National Laboratory,  is an air-launched cruise missile. The AGM-86b air-launched cruise missile it will replace also carries a W80-1 warhead that can be configured to detonate at lower yield. 
STRATCOM's Cotton said fielding the SLCM-N would diversify STRATCOM's options when deciding whether to deploy low-yield tactical nuclear weapons. 
Editor's note, 12:47 p.m Eastern time. The story was changed to clarify that Cotton's comments about a sea-launched nuclear cruise missile were in response to a question from Sen. Joni Ernst (R-Iowa).