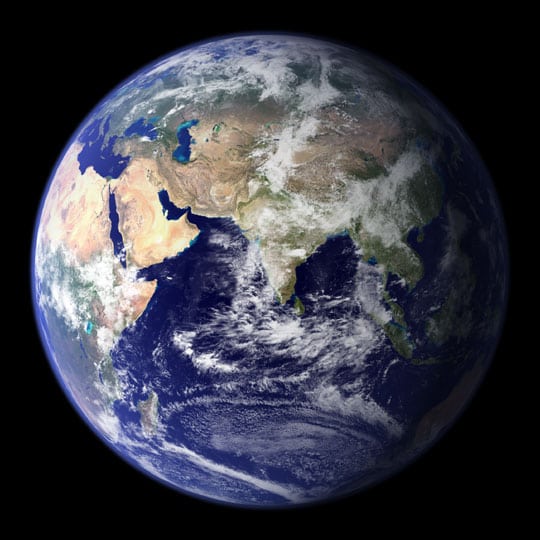 Rep. Chris Van Hollen (D-Md.) is none too happy about recent comments made by an adviser to President-elect Donald Trump regarding gutting NASA's Earth science program, and he plans on doing something about it. "I think you have to take threats seriously. People need to mobilize to make the case for why this investment is important to the country and to people in all the different states," Van Hollen told GHG Daily in a telephone interview Tuesday. "These are issues that impact states regardless of whether they're red states or blue states. These are important national investments."
The congressman, who earlier this month won election to the Senate, was set off over the weekend by a Nov. 23 London Guardian article in which Trump campaign space policy adviser Bob Walker suggested the new administration would cut funding for NASA's Earth science program in an attempt to battle the "politicized science" of climate change. "We see [NASA] in an exploration role, in deep space research," Walker told the newspaper. "Earth-centric science is better placed at other agencies where it is their prime mission."
According to NASA's program website: "The purpose of NASA's Earth science program is to develop a scientific understanding of Earth's system and its response to natural or human-induced changes, and to improve prediction of climate, weather, and natural hazards." The program has been funded at around $2 billion a year under the Obama administration.
Moving the work of NASA's Earth science program to a different agency, such as the National Oceanic and Atmospheric Administration, which does its own climate modeling but relies in part on NASA satellite data, would be unwise, Van Hollen said. "NASA and NOAA collaborate right now. They collaborate on a lot of this research, but it would be very disruptive to take this mission away from NASA Goddard," he said. "It would be very disruptive, and it would negatively impact the mission."
The NASA Goddard Institute for Space Studies is responsible for the agency's global temperature tracking efforts. It also happens to be in Van Hollen's home state of Maryland. "I visited Goddard a couple months ago," he noted. "We talked about all of their important programs, including the Earth science program, and the importance of that program to the country."
Van Hollen intends to use his new position on the Senate Appropriations Committee to make the case for sustaining the Earth science program – if not for its contributions to climate science, then for its many other facets. "In addition to this information being important to measure climate change it's also important to people in virtually every state for more practical local purposes: managing freshwater resources, helping farmers, fighting wildfires and managing disaster recovery, improving weather forecasting, and hurricane tracking," he said.
Taking aim at the program out of spite for climate science is not a good move for Republicans, according to Van Hollen. "We're going to have to make the case [for the Earth science program], but clearly there's this partisan witch hunt against funding related to climate change," he said. "What people don't realize is that that opposition can boomerang back on them and hit people in their state."
Walker admitted in the Guardian article that it would difficult to stop all ongoing work in NASA's Earth science program, but said any future programs would be directed to other agencies. "I believe that climate research is necessary, but it has been heavily politicized, which has undermined a lot of the work that researchers have been doing. Mr. Trump's decisions will be based upon solid science, not politicized science," Walker said in the article.
It's not the science of climate change that has been politicized, Van Hollen said, but the denial of the global scientific consensus on the matter. "Obviously if you adopt a know-nothing approach, that's politicizing the science," he said. "Those who have been trying to cut this budget are being driven by political ideology as opposed to science. … I mean, what are they afraid of us finding out, right?"
Trump himself has not directly said he intends to take aim at NASA, and requests for comment from his transition team this week went unanswered. However, any threat to the program must be treated as viable, Van Hollen emphasized. "I think it's important that people look at comments that are being made because it could be an early warning and, you know, if it turns out not to be a serious threat, so much the better. But everybody should be working on the presumption that we're going to have to fight for this funding," he said.