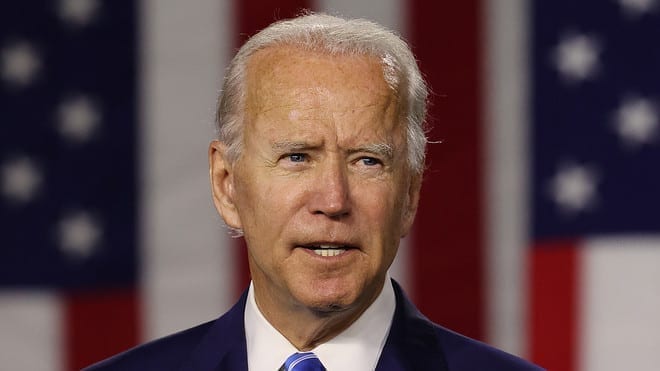 Uncle Sam has long wanted federal workers and contractors to get vaccinated against COVID-19 but now is growing more insistent, with infections on the rise around Department of Energy nuclear installations.
President Joe Biden this week reinstated mandatory mask wearing in government buildings and imposed a series of safety measures and restrictions for federal workers and contractors who may not be vaccinated.
Feds and on-site contractors who do not "attest" to being fully vaccinated must wear a mask on the job "no matter their geographic location, physically distance from all other employees and visitors, comply with a weekly or twice weekly screening testing requirement, and be subject to restrictions on official travel," according to a White House press release on Thursday.
The federal government is modifying its vaccination push from encouragement to arm-twisting during a month where new confirmed cases of COVID-19 have surged at properties overseen by the DOE Office of Environmental Management, reversing earlier progress this spring.
As of Thursday afternoon, there were 155 confirmed, active cases of COVID-19 at Environmental Management (EM) sites, a spokesperson for the office said via email.  
While still well below the 400 recorded during a week in late January, when vaccinations were still being offered to mainly the oldest and sickest people, it represents a big jump from June when the EM weekly numbers were hovering in the low 50s. This spring the DOE waived its indoor mask requirements for vaccinated workers and visitors, and the Hanford Site in Washington state was one of the last to lift its mask rule in June.
The administration said it hopes private employers will "follow this strong model" laid out in Thursday's announcement. Biden also instructed the Department of Defense to investigate the possibility of making the coronavirus shot a required vaccination for members of the U.S. military.
At one point during his White House press conference, Biden said companies should get their workers vaccinated, "if you want to do business with the federal government."
"Not sure that will go over well in Paducah, Ohio, Idaho and Pantex" and other weapons complex locations where many are leery of getting inoculated against the coronavirus, an executive with one medium-sized DOE contractor said Friday in response to an inquiry from Weapons Complex Monitor.
A senior executive at another midsize contractor was a fan of the White House action. "I strongly agree with these actions," the manager said. "We achieved a 90% vaccination rate in the corporate office. I think that this is necessary and welcome and yes, there will be litigation."
A third industry executive with a small contractor said via email Friday it is important for the government to explain the data and reasoning for the new policy or else it will appear "arbitrary" to the workforce.
Prior to Biden's press conference, Herman Potter, president of the United Steelworkers Local 1-689 at the Portsmouth Site in Ohio, said by phone he hoped DOE bosses will "sit down at a table and work through" implementation of new policy on vaccination. Potter said a significant number of his members are reluctant to take the shots.
The White House and public health officials have said the so-called "delta variant" of COVID-19 is far more transmissible than the earlier versions and is spreading rapidly among the unvaccinated.
"Ballpark, I have heard of no site below 55% vaccinated," these days within the weapons complex, one representative of a major DOE contractor said by email Thursday. Put another way, the workforces at some DOE sites might be 45% unvaccinated if this estimate is correct.
A spokesman for contractor BWX Technologies, Jud Simmons, declined to weigh in on any policy change, referring comment to DOE and the National Nuclear Security Administration. 
"From the outset of the pandemic, BWXT has closely monitored guidance from the government and prioritized efforts to protect our workers' health and safety" with everything from masking to remote work. "We continue to strongly encourage vaccinations, and our employees have responded well to the call," Simmons said.
The DOE did not immediately respond to a request for comment. 
As of Friday morning, the United States has recorded 34.75 million cases of COVID-19 with 612,000 deaths resulting, according to an online dashboard overseen by Johns Hopkins University.
According to the Centers for Disease Control (CDC) and Prevention, 161 million people in the U.S. were fully vaccinated against COVID-19 between December 14, 2020 and July 19, 2021.
Rising Transmission Already Spurred DOE Re-embrace of Masking
On Wednesday, the day before the White House announcement, DOE said everyone was again required to wear face masks inside of Department of Energy buildings located in areas that are currently hot spots for transmission of the virus, the agency announced in an email blast.
"[E]ffective immediately, face coverings must be worn by everyone in all DOE buildings and leased spaces that are in areas of substantial or high community transmission, regardless of vaccination status," reads Wednesday's email. "As of today, that includes the Washington, DC area. Employees will be notified by leadership regarding requirements based on current transmission rates and if transmission rates change requiring a modification mask guidance at DOE sites."
DOE handed down the directive after the Centers for Disease Control (CDC) and Prevention recommended Tuesday that even people vaccinated against COVID-19 resume wearing face masks indoors, if they are in geographical regions where the disease is spreading rapidly.
With a few exceptions, anyone entering affected DOE buildings must wear a face mask that covers the nose and mouth, as recommended by the CDC and the Occupational Health and Safety Administration, according to the email. People should wear masks in "garages, hallways, snack bars, cafeterias, elevators, and restrooms," during "all face-to-face meetings" and at security checkpoints.
EM properties located in virus hot spots are Hanford, Portsmouth, the Paducah Site in Kentucky and the Savannah River Site in South Carolina.
"We understand that this change may be discouraging, however it's important to remember it is intended to protect the health and safety of our workforce and our loved ones," according to a Wednesday memo from DOE managers at Hanford to employees there. 
According to the Centers for Disease Control (CDC) and Prevention, 161 million people in the U.S. were fully vaccinated against COVID-19 between December 14, 2020 and July 19, 2021.