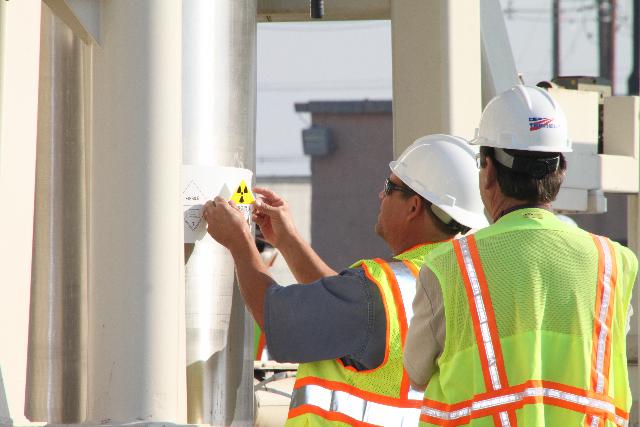 The 2024 budget for the Department of Energy's Hanford Site in Washington state would grow to an unprecedented $3 billion or so from $2.7 billion this year, if President Joe Biden's fiscal 2024 budget request became law.
Overall, however, the administration's budget request would keep funding at the DOE Office of Environmental Management about flat at $8.3 billion. Due to inflation, the prices consumers pay for goods have risen roughly 6% over the 12 months ended February, according to the latest inflation data from the Department of Labor.
The 2024 fiscal year starts on Oct. 1. The administration request is virtually assured to be altered in Congress, starting with the Republican-controlled House Appropriations Committee, which has scheduled a hearing on the DOE spending plan next Thursday at 10:30 a.m. Eastern Time. 
Defense Environmental Cleanup, the largest tranche of DOE's nuclear cleanup budget, would be relatively flat at $7.07 billion, about on par with the prior year's $7.03 billion. Non-Defense Environmental Cleanup would receive $352 million, down from $362 million in the fiscal year that runs through Sept. 30. The Uranium Enrichment Decontamination and Decommissioning Fund would be $857 million under the Biden plan, down from the $879 million Congress approved for fiscal 2023.
"The fiscal year 2024 record Hanford budget request by President Biden of more than $3 billion is a huge step forward for Hanford cleanup and the entire Pacific Northwest," Laura Watson, director of the Washington Department of Ecology, said in an emailed statement released through a spokesperson Monday evening. "This announcement shows that our collective efforts to increase funding and keep the cleanup on track are gaining traction in Washington, D.C."
Hanford's Office of River Protection would receive about $1.98 billion under the White House details, up from $1.73 billion in the current fiscal year, while the Richland Operations Office would be funded at $921 million, down slight from just over $1 billion in fiscal 2023, according to a chart on page 14 of this week's budget justification released by the White House. 
More than $100 million in budget adjustments for safeguards and security and other items push Hanford's estimated budget past $3 billion, the Washington Ecology spokesperson said by email. 
Several other big Cold War and Manhattan Project nuclear sites could see their Office of Environmental Management spending stay flat or dip slightly in the coming fiscal year, according to spending figures packaged with the appendix as well as the budget justification document out this week. 
Here are some highlights: 
The Oak Ridge Site in Tennessee would see its Defense Environmental Cleanup allocation stay flat at about $505 million under Biden's request. The facility decommissioning budget for Oak Ridge and the Y-12 National Security Complex would rise to $196 million from $187 million. This account includes continued construction of the Outfall-200 Mercury Treatment Facility as well as design and planned construction of the Environmental Management Disposal Facility landfill. 
The Savannah River Site in South Carolina would dip to $1.58 billion from $1.65 billion of defense environmental spending. The liquid tank waste budget is increasing to $968 million, up from $939 million. This will allow the complex to continue building new saltstone disposal units. DOE also hopes to increase annual output at the  Salt Waste Processing Facility to 6 million gallons per year. So far the rate is about 4.5 million gallons annually. The facility prepares liquid waste for solidification, separating salts from the solution and sending them to saltstone disposal units for onsite storage. There are 6 storage units now. DOE wants to build 12.
At the Idaho National Laboratory spending would decline to $447 million from $458 million. The Integrated Waste Treatment Unit, scheduled to start treating sodium-bearing waste within the coming weeks, has a fiscal 2024 maintenance budget of $2 million. 
The Waste Isolation Pilot Plant in New Mexico's Defense Environmental Cleanup budget would rise to $464 million in fiscal 2024 from $459 million in fiscal 2023. With construction winding down for the Safety Significant Confinement Ventilation System, that line item's budget would drop to $44 million from $59 million. 
The Paducah Site in Kentucky's request is $217 million, down from the $240 million authorized by Congress for fiscal 2023. In addition to continuing to prepare the C-333 Process Building for demolition, site workers continue to dispose of the R-114 refrigerant, which the budget request referred to as Freon: a brand-name chemical.
The Portsmouth Site in Ohio's Environmental Management spending rises to $493 million from $480 million. Having taken down one big uranium enrichment process building, crews should start the pre-demolition stage at the X-333 building.
Los Alamos National Laboratory in New Mexico would receive a $12 million environmental haircut under the request, dropping to $274 million from $286 million. The DOE plans to continue to control migration of a hexavalent chromium plume as well as excavating radioactive corrugated metal pipes. Under a separate account, Los Alamos would receive $14 million, down from $41 million, to take down unused National Nuclear Security Administration structures.
Moab Site in Utah would hold steady at $67 million again in fiscal 2024 under the request, enough to remove another 1 million tons of uranium mill tailings from the current location near the Colorado River to a permanent disposal site 32 miles north.
Nevada National Security Site would drop to $62 million from $63 million under the request. The desert site will continue disposal of low-level radioactive waste and mixed low-level radioactive waste, under the request. 
The Energy Technology Engineering Center at the Santa Susana Field Laboratory in California would jump to $44 million from $26 million in the current fiscal year to continue preparing for soil and groundwater cleanup. 
West Valley Demonstration Project in western New York remains flat at about $90 million for fiscal 2024. The funding supports continued demolition of the Main Plant Processing building and removal of the rubble.