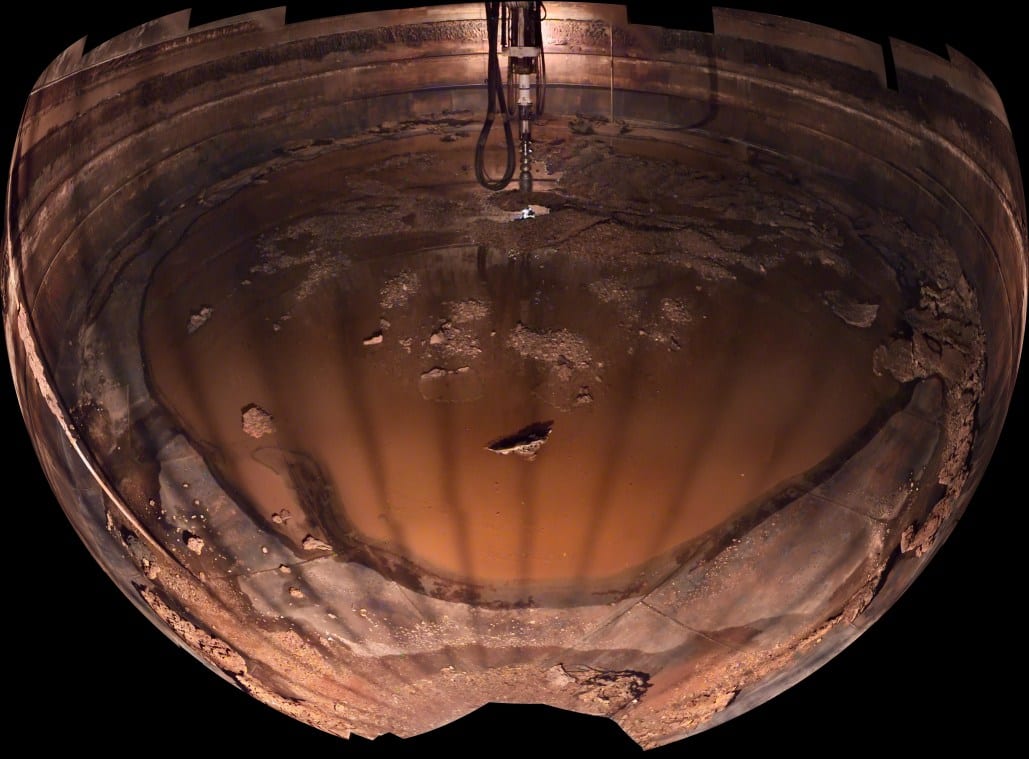 The states of Washington and Oregon have declared their formal opposition to a federal proposal for a new interpretation of the definition of high-level radioactive waste.
Meanwhile, industry and community stakeholder groups are pressing the Department of Energy to proceed with the revised interpretation.
The Energy Department is proposing to reconsider its interpretation of material classified as high-level radioactive waste, which requires disposal in a deep geological repository. The definition now is tied to the origin of the material, with high-level waste generated during the chemical reprocessing of irradiated fuel.
Oregon submitted comments on the plan to DOE in late December, followed by Washington state on Monday. Both keep a close eye on operations at the Hanford Site, home to a massive nuclear waste cleanup and management program near Richland, Wash. The former plutonium production site has 60 percent of the nation's nuclear reprocessing waste, including 56 million gallons held in its underground storage tanks.
The federal agency accepted comments through Wednesday. Among groups siding with the states to oppose the DOE proposal was a coalition of national and regional nonprofit watchdogs. But communities near DOE sites have supported the proposal, with the Energy Communities Alliance submitting comments in favor of reclassification.
Washington state said in its comments that DOE's proposed change to its waste interpretation is classified would be contrary to congressional intent and would fundamentally change the definition of such material that has been used consistently by DOE and the U.S. Nuclear Regulatory Commission.
The DOE proposal would allow it to reclassify high-level waste if the agency determines it can meet the radioactive concentration limits for low-level radioactive waste or if the waste can be safely disposed of without sending it to a deep geologic repository. The United States does not yet have such a repository.
"This is an attempt by the federal government to grant themselves the unilateral authority to leave high level radioactive waste in the ground at Hanford," Washington Gov. Jay Inslee said in a statement this week. "This dangerous idea will only serve to silence the voices of tribal leaders, Hanford workers, public safety officials and surrounding communities in these important conversations."
State Attorney General Bob Ferguson added that the proposal would reclassify high-level waste based on criteria not found in statute — possibly referring to the 1982 Nuclear Waste Policy Act, which defines that waste type. He called it "dangerous and wrong."
The Energy Department has told the state its proposal would help align the management of waste with science, according to comments submitted by Washington. But robust scientific evaluations have already been conducted of Hanford's reprocessing waste and treatment of the waste, Washington state said. The Energy Department's 2012 Final Tank Closure and Waste Management Environmental Impact Statement confirmed that the current plan to vitrify tank waste is the only way to protect the Columbia River and communities near Hanford from harmful, long-lived constituents in the waste, Washington state said.
The DOE proposal would change existing disposal pathways for Hanford nuclear reprocessing wastes that have been established under the legally binding Tri-Party Agreement and by federal court order, the state said. It would avoid public participation in the management of the waste and remove oversight of DOE's waste management.
In 11 pages of comments filed in late December, the Oregon Department of Energy said DOE should not be allowed to redefine waste without independent regulatory oversight from states and the Nuclear Regulatory Commission. The current process to reclassify tank waste is more restrictive, Oregon said.
The Department of Energy has yet to publicly provide figures on how much HLW is found in the weapons complex, and what portion might no longer be considered high-level if the change is made.
Now, reprocessing waste can be exempted from disposal in a deep geologic repository if key radionuclides are removed to the maximum extent possible and a planned disposal site passes a performance assessment. In addition, Section 3116 of the National Defense Authorization Act of 2005 allows waste in Idaho and South Carolina, but not Washington state, to be reclassified in consultation with the NRC and if the reclassification complies with state permits.
The Energy Department has been working with Washington state and the NRC for 25 years to establish a technical basis to reclassify about 90 percent of Hanford's tank waste to allow it to be buried at Hanford's Integrated Disposal Facility rather than at a national repository. The change to how the definition of high-level waste is applied could allow more long-lived and highly radioactive waste to remain in the treated tank waste planned for disposal at Hanford, according to Oregon.
Oregon added in its comments that DOE's proposal could allow more waste to remain in Hanford's underground waste tanks when they are filled with grout and closed in place. The proposal also could also loosen standards for addressing soils contaminated by spills and leaks from Hanford tanks.
"DOE's institutional structure places it in the center of a conflict between its responsibility to ensure long-term safety from radiation and its interest in reducing the sizeable financial liability of the nation's nuclear weapons complex cleanup," Oregon said. "Oregon's view is that the former must always prevail over the latter."
The coalition of watchdog groups collaborating on joint comments opposing the DOE proposal included Hanford Challenge in Washington state, Columbia Riverkeeper in Oregon, the Southwest Research and Information Center in New Mexico, the Snake River Alliance in Idaho, Savannah River Site Watch in South Carolina and three Washington, D.C., based groups — the Natural Resources Defense Council, Institute for Policy Studies, and Nuclear Information and Resource Services.
Their groups warned that DOE's proposal would "be contrary to law and create a host of technically unsound, indefensible and dangerous situations in multiple locations around the country. Bluntly, finalizing this internal order would flatly violate the express directions of Congress found in the Nuclear Waste Policy Act."
But the Energy Communities Alliance, which represents municipalities near DOE nuclear facilities, said allowing the department to change the interpretation of the high-level waste definition would have multiple benefits. It could save taxpayers an estimated $40 billion or more in the remaining cleanup costs of sites, according to the Washington, D.C.-based group. It would speed up tank retrievals and closures at four DOE sites around the nation, ECA added, saying the move would also shorten the DOE cleanup schedule, reducing risks to communities near cleanup sites.
Near Hanford, the Hanford Communities coalition of local governments and the Tri-City Development Council said waste should be classified as high level based on its risk and characteristics, not its point of origin. Money saved there could be used for pressing high-risk cleanup projects at Hanford, they said.
Hanford Communities would like some tank waste at the site that DOE has previously said could meet requirements for transuranic waste reclassified and sent to the department's repository for that material, the Waste Isolation Pilot Plant in New Mexico.
The Energy Communities Alliance is recommending DOE conduct a full examination of costs, timelines, and impacts on existing agreements related to waste that could be reclassified. The Energy Department needs to communicate the impact of its proposal to the public, tribes, local governments, and other stakeholders at each site, ECA said.
"Failure to release the information will likely lead to mistakes, regulator lawsuits and eventually, an inability to implement the change in policy successfully," ECA said in a statement this week.
"We are writing in strong support of DOE's finding that the statutory term may be interpreted such that reprocessing wastes are managed appropriately based on their hazard and not by arbitrarily imposing management requirements definitionally based on the origin of the waste." U.S. Nuclear Industry Council President David Blee said in comments submitted Wednesday.
The NIC said the Energy Department's proposed interpretation is in keeping with a 2017 recommendation from the Government Accountability Office saying the agency should employ more risk-based policy.

Register
for the
2019 RadWaste Summit
before July 26th to save up to $200! New session topics include a brand new pre-conference workshop, 
Decision-Making Tool for Waste Disposal
, new procurement initiatives, DOE EM's mercury challenge for decontamination and decommissioning at Oak Ridge, hot topics on TENORM waste management, and more! Check out the
agenda here
.