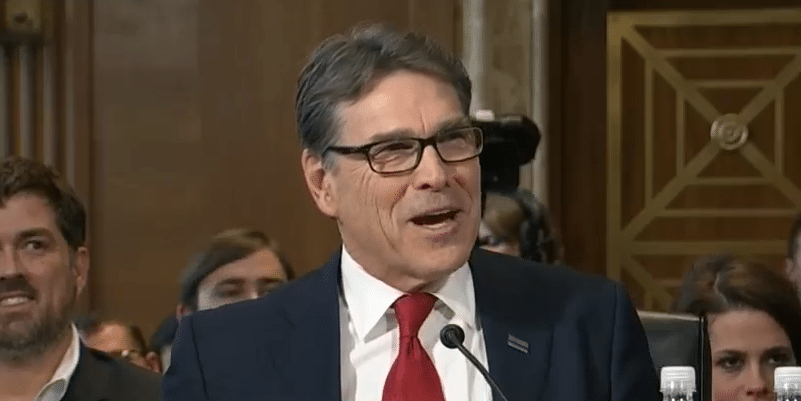 Rick Perry on Thursday announced his resignation as the Donald Trump administration's first secretary of energy after more than two-and-a-half years on the job.
In a published letter to President Donald Trump, Perry said he would resign "later this year" from the Cabinet. Dan Brouillette, the deputy secretary of energy, will then take over as acting secretary.
Perry's nuclear-weapons legacy is tough to clearly identify. The former Texas governor — whose passion since being sworn into federal service in March 2017 has been promoting American sources of energy for electrical utilities and transportation — seldom spoke publicly about the nuclear weapon- or weapon-cleanup missions that account for roughly 60% of DOE's annual budget.
In his farewell letter, however, Perry called Trump's attention to "success" in "modernizing our nuclear [weapons] enterprise," plus "unprecedented success in the clean-up of our nuclear facilities."
A DOE spokesperson on Friday did not immediately reply to a request for comment seeking specific examples of these successes. In a slickly produced video farewell, anchored by a three-camera address from Perry behind his Forrestal Building desk, he touted ongoing environmental remediation efforts at "numerous sites" in the now-largely shuttered Cold War nuclear weapons complex.
Under Perry's watch, the Department of Energy has asked Congress to expand the active nuclear weapons budget managed by the semiautonomous National Nuclear Security Administration (NNSA).
Spending on DOE's Office of Environmental Management also grew under Perry's watch, sometimes more than the Energy Department sought.
The nuclear cleanup office received $7.2 billion during fiscal 2019 toward remediation of 16 Cold War and Manhattan Project sites. The funding for the fiscal year that ended on Sept. 30 marked the office's highest level in more than a decade. A continuing resolution passed by Congress and signed by the president in late September will keep government spending at fiscal 2019 levels until Nov. 21.
Under Perry's watch DOE suspended the practice of trading or bartering excess federal uranium in order to help fund remediation of the Portsmouth Site in Ohio. Perry called this a poor management practice and said money for the former uranium-enrichment site should come out of congressional appropriations.
The Texan made a point of traveling to the DOE nuclear energy cleanup sites, although it did not endear him to citizen groups in those areas.
"On taking office, Secretary Perry immediately fell under the spell of contractors and unfortunately ran DOE in the same closed manner as his predecessors, with inadequate access to documents and DOE decision-makers," Tom Clements, director of the South Carolina-based Savannah River Watch, said in a Friday email.
In his resignation messages, Perry did not say why he was leaving the administration, or exactly when. He did say that he would return to Texas. Many Cabinet secretaries, in Republican and Democratic administrations, stick around only for one term or half a term.
Perry's departure was telegraphed well in advance. Earlier this month, media reported that sources said the DOE boss would resign this autumn to seek work in the private sector. On Thursday, the Wall Street Journal published an exclusive and candid interview with Perry. Later that day, DOE dropped the neatly edited video announcing Perry's departure.
Reports earlier this month indicated Brouillette could be nominated to replace Perry. Trump, on his way Thursday to a campaign rally in Texas, told reporters "We already have his replacement." The president did not identify that person.
On Friday, Perry told CNBC that, post-DOE, he might consider charitable work, such as a prison ministry, or perhaps "an opportunity to work with people, to bring power to the billion plus people in the world that don't have electricity."
Perry did not say how long he would stick around, though he implied, in his video farewell, that it would not be much longer. In the roughly four-minute piece, interspersed with video clips and stills of his visits around the DOE complex and abroad, the outgoing Energy boss said there would be much work to do "in these upcoming weeks."
Right up until October, Perry mostly skirted the controversies of policy and conduct that have ensnared, and sometimes forced from office, other members of Trump's Cabinet.
On Oct. 10, the House Intelligence Committee subpoenaed Perry's records of talks with Ukrainian officials. The subpoena is part of an impeachment inquiry led by the House's Democratic majority, and is based on allegations that Trump used the powers of his office to block congressionally appropriated defense aid to Ukraine, unless the newly elected president of that country, Volodymyr Zelensky, agreed to investigate the son of Joe Biden: the former vice president and current contender for the Democratic Party's 2020 presidential nomination.
In a television on interview Friday with Fox News, Perry said his resignation had nothing to do with the Trump-Ukraine controversy or the impeachment proceedings.
Reporter Wayne Barber contributed to this article.