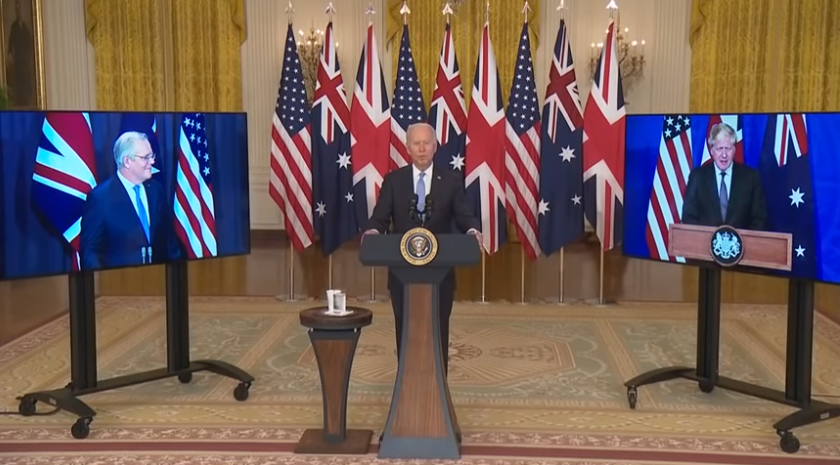 In an announcement with implications for a wide cross section of nuclear policy professionals and the nuclear industry, President Joe Biden announced Wednesday that Australia will acquire nuclear attack submarines — of origin and fuel type yet to be determined — as part of a new trilateral accord with the U.S. and the U.K.
After the White House rolled out the news in a series of background briefings Wednesday morning, Biden himself appeared with Australian Prime Minister Scott Morrison and British Prime Minister Boris Johnson to make the accord, dubbed AUKUS, official.
The Australian navy now appears to have a choice between procuring Virginia-class attack submarines from the U.S. or Astute-class attack submarines from the U.K. Canberra had not made a call at deadline. The boats will be conventionally armed. Morrison said in a media appearance that Australia still does not plan to develop a civilian nuclear-power capability.
The Australian Royal Navy already has a fleet of six Collins-class conventionally-powered diesel-electric attack submarines. It had been pursuing a potential $90 billion program to replace that fleet with 12 new conventionally-powered submarines designed by French firm Naval Group, but this week's announcement may mean the end of that deal.
Asked to clarify the National Nuclear Security Administration's role on AUKUS, a government spokesperson said Thursday that "We are now commencing an 18-month trilateral consultative period to seek an optimal pathway to achieve this capability. As the President said, he has asked Secretary [of Defense Lloyd] Austin and the Department of Defense to lead this effort for the U.S. government, in close collaboration with the Department of Energy and Department of State. This effort will intensively examine the full suite of requirements that underpin nuclear stewardship."
A spokesperson with BWX Technologies, which has a virtual monopoly on U.S. naval reactor components, declined to say whether it had participated in talks with the government about AUKUS and deferred requests for comments to the Office of the Secretary of Defense, which did not reply to a request for comment.
On a background call with reporters Wednesday, senior a U.S. official said AUKUS partnership would be an 18-month effort that "will involve teams — technical and strategic and navy teams — from all three countries to identify the optimal pathway of delivery of this capability."
The White House officials said the effort to help Australia acquire nuclear-powered submarines, something that has precedent only in the U.S.' early Cold War effort to help the U.K. get the technology, does not mean Washington plans to share nuclear propulsion with other allied navies.
"This technology is extremely sensitive," an administration official said on the call. "This is, frankly, an exception to our policy in many respects. I do not anticipate that this will be undertaken in other circumstances going forward."
The announcement raised alarm bells among disarmament and arms control advocates, some of whom quickly called for assurances that the U.S. and the U.K. would not allow Australia to get hold of highly enriched uranium — the fuel for both the Virginia and Astute boats.
The three allies lifted the veil on their trilateral submarine partnership only days before the U.N.'s International Atomic Energy Agency was scheduled to begin its 65th Annual General Conference in Vienna. The annual gathering of nuclear powers and non-weapons states was scheduled to begin Monday.